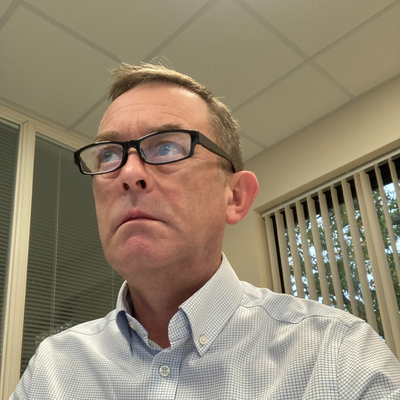 About me:
 I have a career's worth of operations experience in many different sectors and so thought that you would be
interested in my application. 
I have become financially and commercially astute and I have honed my
skills of man management. I have developed process improvements and factory
modifications and been an instigator of strategic changes in the business's I have
been involved with. I believe that I have the right interpersonal skills to enthuse and
bring people with me on the business journey. Cultural ideals of a business always have
intrigued me and I believe that I have good 'people' skills that can transfer between
board and workshop resulting in a working environment that can have fun and make
money.
I have expanded my depth of business knowledge over my career and now believe that
the experience I have makes me a genuine asset to any company and will allow me to
thrive in this new role. I believe that I have the correct attitude, aptitude and experience
to fulfil expectations and I thrive on the opportunity of driving business through solid
leadership.
Experience
WORK HISTORY
Aug 22- Present          Ortho Solutions Group – Head of Operations
Rebuilding an operations team – post covid – as the business grows back
Rebuilding and resourcing a supply chain that was devastated by the pandemic.
 
Nov 21- July 22           Stephen Austin & Son Ltd – Operations Director
Reconfiguring the site using lean techniques
Installing new capital equipment >£1.5m
Sep 19- Oct 21            Milchess Ltd - Operations Director
Succeeded in establishing a UK sales distribution and consulting business for process safety products- specialising in the Oil & Gas, Pharma, and Speciality Chemicals
Within the first 18 months we have placed orders on our principles more than £1.6M
Identified products in Europe and USA to compliment the business offering and developed a creative network of businesses that add value to our product base.
Jul 18-Aug 19              Molecular Products Group- Technical/Quality Director
Hired and mentored a team responsible for the delivery of two chemical projects that generated £800k GM for the business
Centralised the Technical and Quality Teams which eased the communication both within the departments and the rest of the business.
Campaigned for the certification of a novel medical device (for CE Mark under ISO13485/ MDD- Medical Device) with our Notified Body and the MHRA 
Nov 15-Jun 18             Sofis Ltd  (A Halma plc Company)- Operations Director
United the team of Directors that merged two Halma businesses and took 'Pastoral'/ HR responsibilities for the UK site.
Created the vision for the Company driving into IOT safety areas that we had never considered before, and making a £600k investment in future-proofing the business
Designed and executed the Strategy Roadmap for New Products and launched 6 new products generating >£1.6M gross margin
Overhauled the engineering team into a multi-site international structure in US/ UK/ India

Direct Costs: Raw Materials 23.6% from 31%; Labour 1.7% from 2.0%
Oct 08 – Nov 15          Smith Flow Control (A Halma plc Company)- Operations Director
Controlled NPD, Engineering, Site Services, Operations and Supply Chain
Sustained growth year-on-year with a diminishing headcount by completely reconfiguring the shopfloor. Created a more productive working space and used lean systems to implement new methods in commercial project turn-around time

Shopfloor could be reconfigured due to smarter designs of 2 main selling interlocks: Resulted in leadtime reduction from 8-10 weeks to 4-6 weeks

Developed strategic partnerships in the supply chain (stainless steel/ plastics) in China and built strong, more involved, relationships with European parts suppliers. Reduced cost base by ~8%
Decreased contract processing times by 50% by mapping the project office, reconfiguring the seating arrangement to open plan, and introducing visual management techniques
Initiated and Implemented performance management within the business
Spearheaded improvement in the Operational KPIs used:

OTIF -   increased to >99% from 65%
Stock Turns – ran about 10 mainly due to stainless castings from China/ India
Warranty Returns decreased to 0.1%
First Pass Yield – increased to >93% with better training and consistency of supplied components
Sep 05 – Sep 08          EEF South/ London Manufacturing Advisory Service-
                                    Business Improvement Consultant
Customised training of companies in lean techniques and mentoring improvement projects in both manufacturing and personal service industries 
Trained and developed people from shop floor to director level
Perfected my presentation, communication, and training skills.
Nov 00-Sep 05 McLaren- SLR Prototype Project Manager/ Manufacturing Manager
Facilitated the prototype build and assembly of the carbon composite Mercedes McLaren SLR chassis and bodywork within TS16949 quality standards. 
Mastered Daimler Chrysler Lean techniques in Germany over a 6-month training program
I changed role after the prototype stage to project manage facility modifications -and increased capacity from 10 to 17 cars/ week.

I outsourced, by licence, the Resin Infusion Technology and supported the implementation at out third-party contractors.
I organised all outsourced machining and assembly of bodywork -from manufacture through to Gauge R&R testing 
Education
University of Dundee, B.Eng (2.1 Hons); Manufacturing Engineering and Management
Imperial College, University of London, MSc; Composite Materials
Manufacturing / Mechanical profesionals
Professionals from different sectors near Hempstead, Uttlesford District, Essex
Other users who are called Mark
Jobs near Hempstead, Uttlesford District, Essex
Found in: CV Library UK* - 6 days ago

---

CV-Library

Sutton Central

Permanent

Key Points · Basic £22k + · On target Earnings (OTE commission + basic) £60k+ · Excellent continued training · Company benefits, pension etc.... · Career progression and longevity · Area: · Sutton · Company: · Multi Office Independent · Hours: · Mon - Fri 9am - 6.30pm (Sat 10am - ...

Found in: Jooble GB - 6 days ago

---

Environment Agency

Colchester, Essex

G6 Account Manager – Major Infrastructure Salary – £47,646 Locations – · Nationwide, flexible Grade – 6 Post Type/ Working Pattern – Full Time, · flexible working available Interview Dates – 09/01 for two weeks About us If · you're part of the Environment Agency (EA), you're part ...

Found in: Talent UK - 3 days ago

---

About the role · Availability Window · We are recruiting festive colleagues. Apply today, join us and help us make Christmas merrier for customers. · A festive role means variety, full of everyday challenges, with no day being the same – but that's one of the things that makes it ...