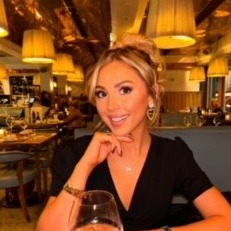 About Olivia Roberts:
One of my strengths is time management and consistency with my work ethic when creating content in a timely manner to drive results. I am a highly motivated individual who uses initiative to drive the business through finding opportunities in price changes within store, promotions and events that I organise. In turn, this captures our customers' interest by providing content tailored to their shopping needs that fuels pre-orders and drives sales.
 As an organised and driven individual, I aim to deliver a high working standard within dynamic and fast-paced working environments. I am extremely capable with technology and love producing innovative work by creating posters, videos and catalogues, to push sales on numerous app platforms and encourage footfall in store. I am comfortable with constant communication within and outside the team. This is displayed via building relationships with other stores on the outlet when delivering onsite discount catalogues I made for our store, negotiating a mutually beneficial discount for customers who shop with ourselves and L'occitane, and creating 10% cards for car park conductors on the outlet to hand out to traffic that day to increase store sales.
Experience
In my last year working as a Virtual Merchandiser at Michael Kors, I was given the opportunity to channel my creative skills while navigating this brand-new side of the business and have implemented my drive for marketing to help this online area reach the store's overall quarterly goals. 
While working in the company, we have been fortunate enough to benefit from marketing events such as our Coffee Cart collaboration. By producing content in a timely manner on Friday evening and promoting this to customers on WhatsApp, our mailing list and within the Outlet, on Saturday 10th December the store took 31.1k and traffic increased by 10%. This was just one hundred people less than black Friday which was great exposure for the store. During the day I hosted the coffee cart and interacted with customers to introduce our virtual selling platform to add to this customer base. 
Moreover, I personally take care of any event we share with our customers and colleagues within the store. I do this by strategically planning, managing my team, and ensuring preparation is always done to maximise sales in a timely manner. For example, during our recent on-site discount event, I produced our top ten clogs per department into a catalogue to engage the staff onsite. I then hand-delivered this together with the flyers to 172 stores again introducing our virtual service. I found that by personally delivering these catalogues, as well as WhatsApping them a virtual version via pdf, relationships were built and it enabled me to add to our virtual clientele. Through creating relationships onsite, posting engaging content regularly and responding swiftly to followers across all social media channels, I have helped the business take a total of 229k of virtual sales for the first quarter of the year. We currently sit highest for Virtual Sales in the UK. 
Furthermore, I am responsible for reaching out to customers on our UK CRM database to notify them of any store promotions, sales, or events. I also identify their shopping preferences from this database and forward them new lines of stock I feel they may be interested in. I am very confident in external communications and generating new business for the store. 
My responsibilities also extend to the weekly competitor shop where I produce a report for my store manager based on all competitors' promotions, signage, and sales for her to then feedback into her trade report. I believe with my strong store experience within a fast-paced working environment, competitive analysis skills and knowledge of marketing, I would be able to offer a well-rounded perspective to your organisation. 
Due to having six years of sales experience with a wide variety of consumers, I feel as though I offer a good understanding of commercial goals to successfully deliver the right initiatives to multiple consumers. My skills enable me to carefully track results and recognise new opportunities for growth within marketing goals. 
Education
BIRKENHEAD HIGH SCHOOL ACADEMY 2002 - 2019 GCSEs 
English Literature – A** English Language – A** History – A* Religious Studies – A* Science – B Drama – A Spanish – B Music – A Dance – B Maths – C
 A-LEVELS Philosophy and Ethics – A English Literature and Language – B Politics - B 
UNIVERSITY OF LIVERPOOL 2019 – PRESENT I am currently studying Law in my final year which is due to end June 2023.
Professionals in the same Marketing / Advertising / Public Relations sector as Olivia Roberts
Professionals from different sectors near Cheshire West and Chester, Cheshire
Other users who are called Olivia
Jobs near Cheshire West and Chester, Cheshire
Found in: Talent UK - 4 days ago

---

Mersey Care NHS Trust

Liverpool, United Kingdom

Full time

Consultant Psychiatrist · Employer Location Liverpool Salary £88,364 to £119,133 a year per annum, plus 10% R&R Closing date 29 Mar 2023 Sector , Career Level Contract Type Hours You need to or to save a job. Mersey Care NHS Foundation Trust provides specialist inpatient and com ...

Found in: Talent UK - 1 day ago

---

Michael Page

Liverpool, United Kingdom

Full time

Senior Financial and Reporting Accountant · Employer Location England, Liverpool, Merseyside Salary GBP42000 - GBP46000 per annum + plus bonus & benefits Closing date 11 Apr 2023 Sector Salary band Contract type Hours Where will they be working? You need to or to save a job. J ...

Found in: Jooble UK - 6 days ago

---

The Ministry of Justice

Crewe, Cheshire, United Kingdom

One career, many roles. HM Prison officer opportunities · HMP Berwyn · £30,702 (39 hours per week) with pension and benefits · Prison officers protect the public and help offenders turn their lives around. · If you have the integrity, skills and strength of character we're l ...