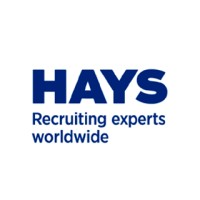 Hays in United Kingdom
Human Resources
2721 jobs at Hays in United Kingdom
Hays plc is a British company providing recruitment and human resources services. It is listed on the London Stock Exchange and is a constituent of the FTSE 250 Index.
Every career takes unexpected twists and turns and there are things that we didn't see coming. At Hays we are your career partner, helping you to go further, whatever your goals or circumstances. When you are ready for your next move, we are here for you. Visit http://www.hays.co.uk today to find your next opportunity.
How to succeed in your job interview
Do you have a video job interview coming up? Watch out video to ensure your interview is a success.
How to succeed in your remote job interview
In this podcast, Gaelle Blake, Director of Permanent Appointments at Hays UK and Ireland, shares her expert advice to help those who are worried about interviewing remotely, overcome their fears and secure their next job
Free staff diversity training
Teach your staff how to hire inclusively

Equality, diversity and inclusion is every employers' responsibility. The courses in this package will help you understand the complexities of diversity in the workplace and give your hiring managers and staff the tools and knowledge they need to build an inclusive recruitment process.