4* Africa (Part 2)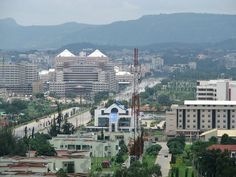 In Part 1
I took a comparative look at Nigeria, Senegal and Gambia, from my past travels.  Today I look at Nigeria, Morroco and Egypt.  At first glance one might think, due to the reclassification of Egypt and Morocco, as part of the Middle East - MENA (from George Bush 2 era) that this is something of an aberration, until one understands the overwhelming majority of people in North Africa, are African by heritage, with long historical and anthropological ties, to the rest of the continent.
Not A Hut In Sight
Looking at infrastructure in the new cities of Hurghada, Abuja and Marrakech, they are equal in planning, structure and development, with the major differences being management.  In Abuja the lackadaisical attitude of many Nigerians is evident, I sometimes heard, "idea ni a need"-  an idea is all that's needed.  A declaration of the lack of a need, for attention to detail.  Already this city is fraying at the hedges.  At night many street lights don't work, water features are dry, I saw, stress saw no public facilities, like loos and multi- level car parks, much needed in any city, particularly  if its to avoid becoming another Lagos (the commercial capitol).  The new parts of Marrakech, are better designed for quality living, with lay backs to pavement, for greenery, allowing for sitting and relaxation.  Eating Al Fresco is the norm, sitting drinking coffee, as the world goes by, is common.  Hurghada in Egypt is definitely designed for the tourist, glitzy, with rows of hotels, well maintained.   A drive outside the new town, in Abuja and Hurghada, the difference is clear, less so Marrakech.   

Shopping For the Good Things Of Life - Food Basically
In supermarkets you can pretty much get what you want in all 3 cities, with an overemphasis in Hurghada, of items aimed at foreigners.  Quick food in new Marrakech varies in quality and price, like everywhere.  In Abuja it appears there is more choice but in Hurghada my meals where limited to hotel food (I got food poisoning) and restaurants.    Unlike Lagos which is dirty, crowded and collapsing under the weight of its over population, Abuja is clean, much like the other 2 cities.  However, unlike Marrakech which is clean in the old, poorer areas, Hurghada and Abuja fall short.  Marrakech is definitely better managed and serviced.
Service With A Smile Or Not As the Case Maybe
Service in Marrakech hotels, is the best.  Unlike Lagos where hotel service is good, my limited experience of Abuja in comparison, is poor.  Hurghada, is definitely the worst. I'm informed its because of 'colourism' and racism, which is laughable, given Egyptians have less of an add mix to their DNA, than the Fulani of Northern Nigeria and are almost entirely African, in this regard.  By the way I found the same attitude in Cairo and on Egypt Air.  So perhaps if you are of indigenous European extraction, you may experience better service.  How sad! 

Wifi speeds are the same all round 4G and 5G has been trailed in Abuja and Morocco.  The electricity problems Nigeria faces (among the worst output in the world) extends to Abuja, with most relying on off grid solutions, while 24/7 electricity runs in Marrakech and Hurghada, a huge plus for rating the development of these cities.  Whether 3,4 or5* hotel in Abuja (and Lagos) mini bar, stocked in 5* and compliment tray, is standard.  Great convenience.  Not so in Marrakech and Hurghada.

Moving Around
In Abuja I relied on Uber, rather than taxis.  In Marrakech, I found using taxis confusing, until I got the hang of things.  A private taxi firm helps but they charge, along with the street taxis, according to what they can get away with, so there is a need to wisen- up quickly.  In Abuja, it is less confusing to take a taxi.  Hurghada lacks good transport connectivity, perhaps due to active tour operators. I never really got to use taxis, though there were many, in poor condition available, not far from my location.
4* Africa
In all, if you are in the more affluent areas of all 3 cities, from the more economically prosperous part of the world,  you'll be in 4* Africa.  Morocco, of the 3, is easily more advanced, in this aspect.  People take care of there appearance, presentation of their  stores or stalls and general surroundings, adding to a sense you are in Mediterranean city in Europe, rather than Africa.  Everywhere there is construction of multitudes new homes for all strata of society, designed to maintain the ancient architecture of Marrakech.  Unlike Abuja and Hurghada, which seems to be concentrating on the upper middle and more wealthy, leaving the poor behind.
Don't Want to Hear It
Overall, Marrakech is best of the 3, bearing witness to Morocco's classification as an Upper Middle Income country, though life in all 3 cities is 4*.  So if as a professional, you are heading to any of these cities, leave behind your fears, worries, prejudices and misconceptions of "poor, developing, 3rd world", silliness.
#Morocco
#Marrakech
#Egypt
#Hurghada
#Nigeria
#Abuja
#Lagos
#Cities
# Travel # Africa
You may be interested in these jobs
Found in: Talent UK - 3 days ago

---

Pertemps TM

London

Full time

Fire Extinguisher Engineer – Central London - £26,000 · We Are Currently Representing A Well-Established, BAFE Accredited Fire And Security Company. Due To Sheer Growth, They Are Seeking An Ansul And Extinguisher Engineer To Be Covering Central · Salary Package: · £23,000 - £26,0 ...

Found in: Talent UK - 3 days ago

---

Morrisons

Harrow

Fixed Term / Part time

About The Role · Our store teams are at the heart of the local community and our Customer Assistants provide a great service and a buzz people enjoy. Its why our customers keep coming back for more. Its challenging and fast-paced on our Market Street and our friendly team love g ...

Found in: Jooble GB - 3 days ago

---

UK Power Networks

Elephant & Castle, Greater London

Position · Apprentice Recruitment Co-Ordinator (admin) · Reporting to · Talent Acquisition Manager · Function · HR – Talent Acquisition Team · Location · London (Elephant & Castle) · Reference Number · 76029 · Employment Period · Fixed Term Contract – 24 months · Contrac ...