but...Whatabout…..(sounds like walkabout) my brain?: III
This is the FOURTH writing of this part. Every time, it's disappeared - gone. Leave it on, saved, or off, makes not one whit of difference. Curious, no? What am I doing wrong…am I getting dumber? Am I unused to the type-etiquette of these platforms? No – been writing sometime on our dear ol' Auntie LI. Screw it – now I'm pissed and hunting for those tiny mystic clothes -moths that seek to suck the life of my from under my nose. Tricia Mitchell would get that….
I finally found out that if you hit the 'PRODUCER' tab then put in     /drafts      after the producer bit on the address bar there, …voilà…there they all are, dagnabit! Got that straight from the hive's core.
NO PREAMBLE: get to it! These are the two 1.5 min ones before, if you wanna know:
When walkabouts go wrong: Part Uno
I left it at….and 'we were still in day 1.' As one tiny caveat, I applaud all walkabout – it's good for the soul. It requires two pivotal ingredients: real or perceived danger and isolation from [most] humanoids. I've only ever done it solo. This is the first done with my raison d être in tow – fool that I am, because it wasn't meant AT ALL to be a walkabout!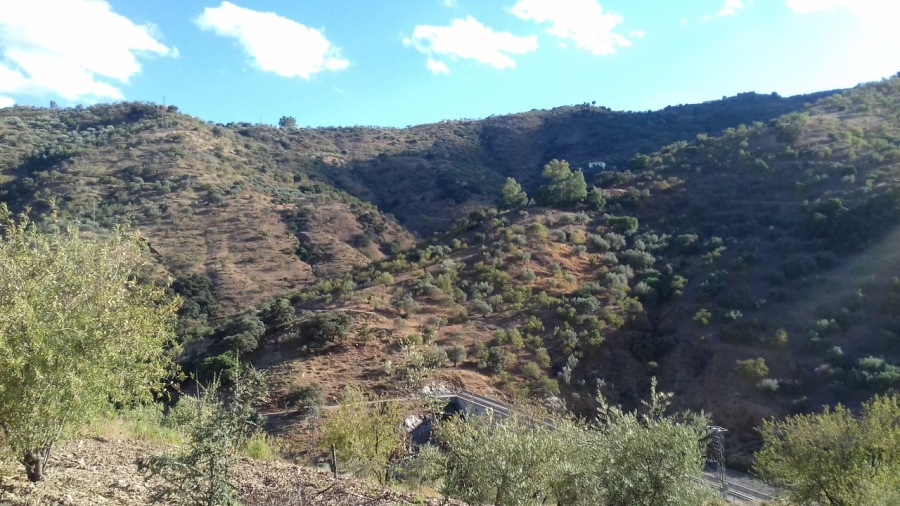 'Che', our acquaintance/ friend and husband have picked us up from Malaga airport; 2 hours late. My hubby is my charge. I accept that with awesome fearfulness. Big Pete, does NOT travel well…even 3 hours worth. He's 18 years into Parkinson's and he's one much-bigger-than-I dude (as explained in the previous buzz). BUT…and what a butt; he's an insufferable optimist!! Oh joy, I say!....never used to, but now I know better.
Overriding the ire I feel about all the explaining I've done and lost in the re-writes of this, I'm gonna try and simplify it at the cost of our history with Spain and love of the Spaniards.
Che says something like this: 
'Come hither and bask in my paradise. Fill yourselves anew with the scent of my garden, look well on my whelps (her two biddy dogs). Rest and be renewed. Ignore the peasants, for their lives are but short and dull, and boring. Oh, and water the plants.' 
Close enough. 
And she showed us pics of her hacienda. 
Lovely, but I'm more interested in where he could fall.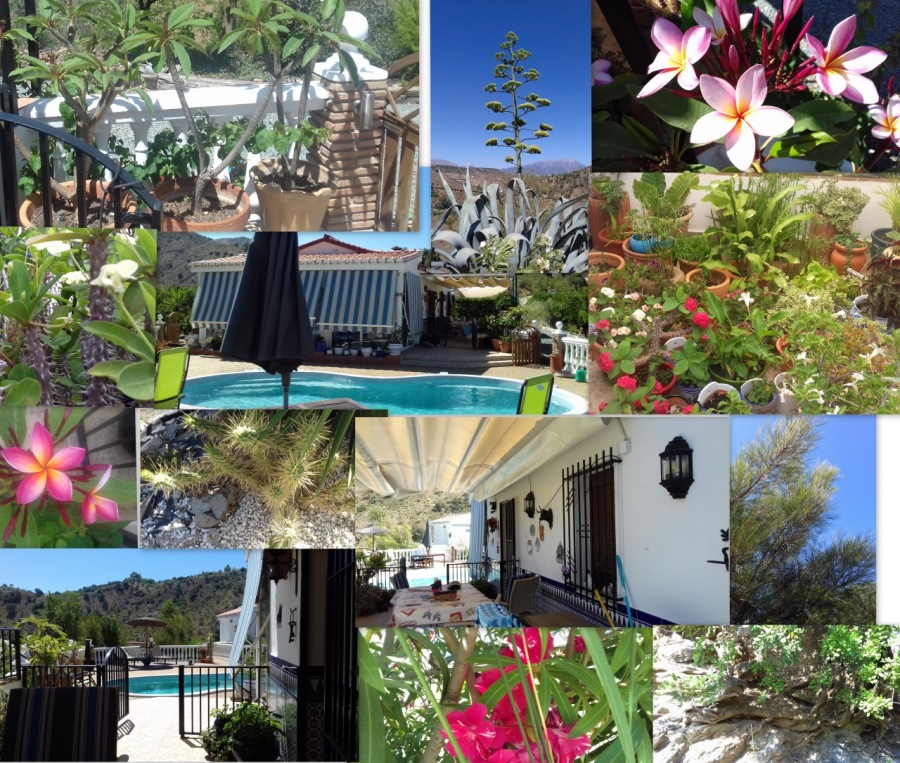 But being the carer / care-giver for my life-love Pete (himself a seasoned traveller), the baton has fallen to me for some time as the maker of all arrangements, so I do tend to get rather military about my ops; my mind has holes, so I can't afford to miss a beat to keep my charge safe. Every question I and Pete could think of was run by this woman. Pages over a period of 2 months. But, I felt for her – her husband had 'mild' dementia and she wanted to get him properly assessed back in the UK. Her being an ex-manager of a GP (MD) practice, I assumed she'd have some idea of disease. Silly trout I am. These days, she earns huge amount of money from elderly patients as a 'live-in', and is away most of each year. Her hubby stays in Spain. Alone. He loves it there! They visited us here – our flat. I got up the co-ordinates she blithely gave me: Comares. One of those beautiful white villages created by the Moors atop a mountain. Okay. I could do that. I could keep Pete safe…lots of peeps around. Bound to have some safe, flat areas...look at the pool? I showed them the google map on my laptop – she said 'close', he said, '….maybe'. But he was so sweet and ready with a smile and a laugh!
I hadn't seen either of them since the month after 9/11 in Florida – the day my brother and family moved into their house there. The day the earth fell over. The day American finally lost her virginity, the day the blood-soaked sheets draped every window. It was the day the music died.
Okay…okay: back! Day one: Now back at her very nice villa, surrounded by a gzillion plants of tropical, sub-tropical and temperate regions – most certainly hardly any would survive naturally here. Beautiful, but….
Che says 'we have to go to Riogordo to pick up (her hubby's) car and get some groceries. No hope for sleep for my man – he, like me (a non-verbal exchange) was alerted by this time to the sheer and dangerous remoteness of this place.
So what was my M.O. to justify my decisions? I had taken great pains to explain Pete's condition to her when we met up in the UK alone...she seemed to get it?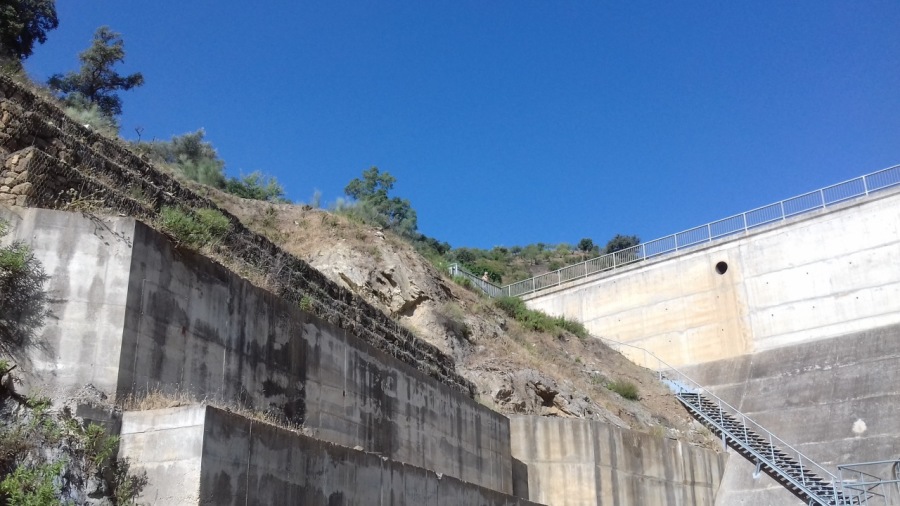 There's Pete just visible at the corner of the top of the dam, which you can also see from the first pic...a little perspective?
Well…there's nothing wrong with Pete's mind, it's just his brain. He has his own opinions which I seek and (being married for 40 years) ignore; (kidding……include, I meant to say!). But I know from our very work-filled lives in Florida that you stick him in/out of the warm or hot sun, in quiet, on a lounger, near water, and he will s l e e p.
Man, you haven't lived if you don't know the true torment of sleep. I suffer from insomnia, but that's nothing compared to Pete: What we do in darkness
Back to us all in the car, going from her place to pick up some old car she shoulda done before we arrived.
As a demonstration, this is what I'm like: I used to have a graveyard of remotes in Florida ! This, along with a tome of 'how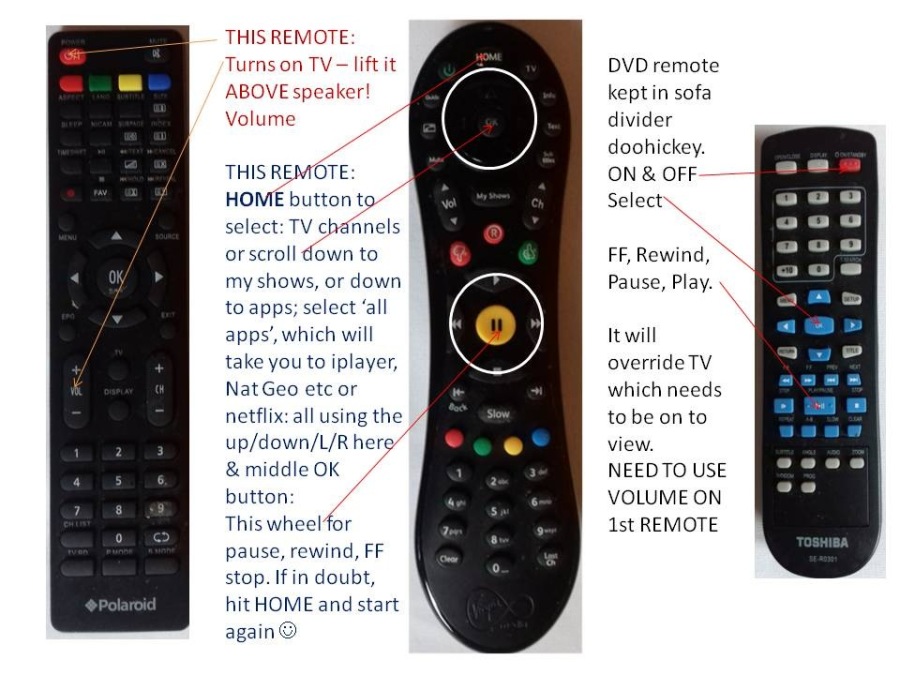 to's', I left them in a already arranged place, along with everything and numbers they would need. We were swapping cars.
I knew her husband could be forgetful.....
Anyhoo, back in the car: The men are in the back. I'm desperately trying to drown her voice out so I can center myself on the here and now – not the where, the why, the HOW. Because they leave tomorrow early. We get to the town, get the car and the men are meant to follow us, but they peel off at the garage. Che distracts me – my days of juggling a million balls are long gone. Then she says, 'where did they go…'? Miles after they'd gone. I'd tried to tell her.
We get the basics from the local shop – meagre picking but all you really need, and start to head back. Me driving. Still talking, she's launched into her husband, how 'selfish' he is, how 'horrible' he is to her. Now I'm listening because I've dealt with a lot of care-givers of neurodegenerative disease before: this ground I know. The drive back takes about 25 mins, all the way, I gently but firmly talk of her 'approach' to his dementia; how to change it up a bit. She's now opening seeking my advice. Fine. I tell her; 'it's not his fault…blaming him further isolates him….if he's in that 'zone' you have to be aware of it (have some tools)…in the zone, he's like a child but one that can't learn, so don't beat him over the head with it…...if you go in angry, he will reflect that because you become the reminder of his disease….try singing….' She asked if I'd write her an email explaining all this for the family. She seemed calmer.
We're back. Say hi to her hubby (Che resists shouting at him for going off), put stuff away. 'Where's Pete?' she asks me. 'Asleep I would think', but go off to check anyhoo. I check twice, including the steep drop-offs of her grounds. I get her away from her hubby and tell her Pete's not here. She flushes with fear and I hold her shoulders, lock eye-contact and softly say, 'where would he be…?' She wants to panic; I won't let her. 'Think,' I say. She wants to beat the answer outta her hubby (fall-back position)…I can see it in her eyes. 'No…THINK!'
I don't know the roads – can't tell one track from another, so she takes a short-cut. She thinks he's either back in Riogordo or at the gas-station. It's an hour and a half later and I'm trying to quell her panic (and mine) and keep her on task. 'You drive, watch the road, no sense in all of us getting in a mess'…' I say. She can't shut up; says, 'he may have wandered away…trying to get here…could phone the Police…they can't find us…no address…lots of people get found dead…', but I stop that. 'NO, Che. He'll have the brains to stay where he was left'. Mercifully we found him at the garage. Mercifully he was shaken up and a bit paranoid in his dehydration and stupor; he was exhausted and could barely walk. But we got back and I eye-balled Che: she didn't say a word to her hubby and resisted her 'look'. He said to me and Pete, 'oh..where were you?' I answered breezily that we just had to pop out. It was evening of day one. We had dins and several bottles of sparkling wine (as Che tends to treat him as a servant, she sends him in for something and he comes back with a new bottle!). Every time she tries with the, 'see how he treats me?' crap, I'd eye-ball her. We had fun and they left very early the next morning, thank God for small mercies. But I'm appalled at what she terms as 'mild' dementia. How could she see so very little? Her baffling answers, both vague and bewildering, started to pile up in my head.
What had I so vitally missed here? 
""""
You may be interested in these jobs
Found in: Jooble UK Organic - 1 week ago

---

Sterling Furniture Group Ltd

Bridge of Don, Aberdeen, United Kingdom

Full time

Who We Are Big things are happening at Sterling Furniture As Scotland's largest family-owned furniture and homewares retailing group and with over 40 years of market experience, our aim is to continue sourcing the highest quality on-trend products so the customer can find everyt ...

Found in: Jooble GB Premium - 1 week ago

---

Webrecruit

Gloucester, Gloucestershire, United Kingdom

Engineering Manager · Gloucester, Gloucestershire · The Company · Our client is an established, family-run business that supplies a range of pharmaceutical and healthcare products along with Mentholated Lozenges within the group. · They are now looking for an Engineering Manager ...

Found in: Jooble UK Organic - 2 days ago

---

Hays Specialist Recruitment

Murston, Kent, United Kingdom

Full time

Senior Mechanical Design Engineer required for expanding Consultancy in Kent · My client was established in 1987 and is now a well-established and highly successful Building Services Consultancy, employing in excess of 20 staff. The Consultancy has gained significant and valuabl ...