Challenges in best practices and governance within education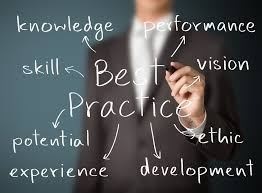 I had a very interesting and heated debate recently with a friend discussing education, edu-tech, best practices, governance, and the student/teacher relationship in education.
My good friend stated that "Best practices" is the worst practice. The idea that we should examine successful organisations and then imitate what they do if we also want to be successful is something that first took hold in the business world, but has now unfortunately spread to the field of education. If imitation were the path to excellence, art museums would be filled with paint-by-number works.
The fundamental flaw of a "best practices"-approach, as any student in a half-decent research-design course would know, is that it suffers from what is called "selection on the dependent variable." If you only look at successful organisations, then you have no variation in the dependent variable: they all have good outcomes. When you look at the things that successful organizations are doing, you have no idea whether each one of those things caused the good outcomes, had no effect on success, or was actually an impediment that held organisations back from being even more successful. An appropriate research design would have variation in the dependent variable; some have good outcomes and some have bad ones. To identify factors that contribute to good outcomes, you would, at a minimum, want to see those factors more likely to be present where there was success and less so where there was not.
We discussed the subject for hours – with the thoughts in mind, I thought I would provide my observations from education in the UK to the problems and then to globalisation and best practices.
Students up and down the country are anxiously discovering their education results. For the majority, their future depends on the grades they achieve – their place at university, or possibly their first full-time job.
The fact is, every student needs a teacher or coach, every person in life needs a mentor:
https://www.ted.com/talks/bill_gates_teachers_need_real_feedback?utm_campaign=tedspread--a&utm_medium=referral&utm_source=tedcomshare
Until recently, many teachers only got one word of feedback a year: "satisfactory." And with no feedback, no coaching, there's just no way to improve. Bill Gates suggests that even great teachers can get better with smart feedback – and lays out a program from his foundation to bring it to every classroom.
Some would have you believe students' success depends solely on their individual grit, determination, and raw talent. Of course, these are important, but they don't make up the whole picture. A student's success also depends on things completely outside of their control: whether they have had to work to support their studies, whether they have had a quiet space to study alone, or how well-funded their college was.
Successive governments have neglected and underfunded these young people, and many of those receiving their results have witnessed this neglect first-hand. A friend of mine, at college in Hillsborough in Sheffield, was only taught for the first half of each lesson. For the second half, a teaching assistant would supervise silent study.
Education is a seamless web. Difficulties caused by a poor start in life cannot always be fully compensated for later on, and every stage of a person's education will affect the next. Our education system today is more rigid than it used to be. It fails countless people for whom a good college course or university degree is just not possible in their late teens. The students who must care for relatives, or who must work to support their hard-up family while their friends and peers study hard, lose out severely under the current system. Funding for adult skills has been cut by 35 per cent over the past seven years, and the number of mature and part-time students has plummeted dramatically over the past ten.
Before students even receive their results, in fact, before they even start school, some already know they're at a disadvantage. New research shows there is a widening gap between elite state schools in the south-east and schools in the rest of the country, while figures also show the gap between state and private schools sending students to university has widened since tuition fees were tripled.
Then consider those students who, after receiving their results, will be heading off to university. With the Government's recent removal of maintenance grants, and their plan to raise fees above £9,000, student debt is soaring: those starting in September will graduate with around £50,000 of debt, maybe more.
Sky-high tuition fees and the rising cost of living have been blamed for "overwhelming" stress levels felt by the majority of students, with one in seven admitting they have been chased by debt collectors as a result of missing rent payments.
A survey commissioned by financial technology company Intelligent Environments found three-quarters of students who receive maintenance loans feel stressed about the amount of debt they accumulate while studying, with over a third (39 per cent) saying they cannot afford their weekly food shop.
Disadvantaged teenagers four times less likely to apply for university
Over a quarter of students admitted to missing rent payments, with three in five polled (58 per cent) running out of money completely before their next payment is due.
Students who experience financial difficulties and worry about debt have a higher chance of suffering from depression and alcohol dependency, new research has found.
Conducted by the University of Southampton and Solent NHS Trust, the study showed symptoms of anxiety and alcoholism worsened over time for those who struggled to pay the bills, while those who were more stressed about graduate debt had higher levels of stress and depression.
Mass demonstration against Tory cuts to education was confirmed in London
The study asked more than 400 undergraduate freshers from across the UK to assess a range of financial factors, including family affluence, recent financial difficulties, and attitudes towards their finances at four time points across their first year, allowing researchers to examine which came first: financial difficulties or poor mental health.
The study also found students who had considered not going to university or had considered abandoning their studies for financial reasons had a greater deterioration in mental health over time.
As a result of globalisation, many people are becoming interested in ranking systems which show how their own countries compare with others on a variety of measures. The World Economic Forum publishes an annual ranking of countries on economic competitiveness; the United Nations a ranking on human development; the OECD publishes comparisons on the quality of healthcare systems. Even a ranking for happiness can be found.
My belief is that change is needed to develop education and to introduce better understanding to practices:
A truly international approach to ranking countries on education should take cultural differences into account before benchmarking and characteristics of good school systems and good teachers.
We can and should learn from each other. But we should also understand that to make a Best practice, work requires translation to a different culture / value system.
The same applies to the discussion on the autonomy of schools. In high power distance countries (by far the majority of countries in the world) Autonomy will only be possible in a
clearly defined and limited mandate that is given by the central power holders. It shold be defined top down.
As Nelson Mandela once said:
"Education is the most powerful weapon which you can use to change the world."
You may be interested in these jobs
Found in: Jooble GB - 6 days ago

---

Juice Recruitment Ltd

Chippenham, Wiltshire

Full time

Are you looking for the next step in your career? Do you have previous administrative experience and are looking to develop your skillset?Juice is thrilled to be working with one of Europe's top businesses in its sector, as they look to add a Sales Support Administrator to one of ...

Found in: Talent UK - 2 days ago

---

About the role · Availability Window · It's our policy to offer new colleagues joining us a minimum of 16 guaranteed hours each week, but if you'd like to work fewer hours (to a minimum of 12) we have opportunities for this too and would still love to hear from you. · The table s ...

Found in: Jooble GB - 3 days ago

---

Gravitas Recruitment Group

Manchester

Graduate Recruitment Consultant (Award winning training scheme) · Gravitas Group is a leading International Recruitment Consultancy. We are committed to delivering an unrivalled service in placing industry leading talent with our clients. · Founded in 2010 by our three founding ...