5 years ago · 4 min. reading time · ~10 ·
Europe's Bold Agenda Enslaving Africa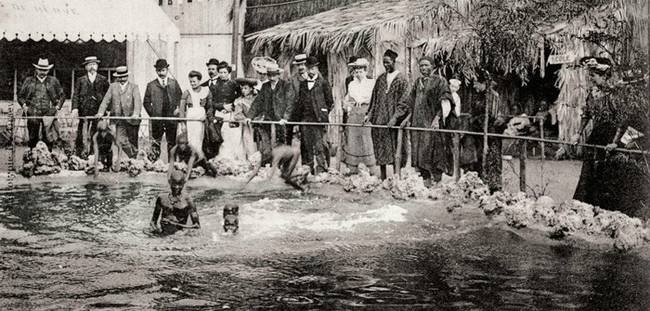 Pictures speak a thousand
words.
 To view enter password 12345
 I start this 3rd instalment with pictures of the savage brutality with which colonial Europe exercised dominance in Africa. Sadistic behaviour, which they excuse with bringing civilization to Africa,
a lie
,
they continue to perpetuate, behaviour for which they refuse to apologise. I commence with these pictures because these aren't images from a distant past but from within the lifetime of many today. These pictures typify what's happening on the continent now. Only this time the justification is democracy. Democracy excuses the bombing of nations, the legitimacy the 'Security Council'- Right to Protect; the bureaucratic process, The International Criminal Court, Hague (ICC).
It is driven by an insatiable greed & racist disregard, that has characterised Europe's dealings with Africa, since Portugal first "discovered" it, by accident in the late 15th century.  To date it's been the denigration of a whole continent, a policy of fierce aggression, oppression, mental & emotional abuse (Africans are inferior) & murder. The continent is run, in accordance to the whims of Europe. Bombing, sanctions, interference by financial & oppressive institutions, supported by "human rights" organizations & "development" agencies.  Colonialism was fuelled by 2 things.
1. Industrial revolution, meaning labour intense work was reduced, consequently eliminating the need for human trafficking & subsequent enslavement on sugar plantations/ whatever else. Contrary to what you may have taught, this is the reason for the collapse of the trade in human beings, not a sudden conscience. 
2. This gave raise to colonialism, in the pursuit for raw materials for fledging industries. Hence the United African Company in UK, with their counterparts in France, Holland etc.  Thus, a new trade with Africa started and just like its predecessor, The Trans-Atlantic Slave Trade, it is rooted & driven by exploitation. This new trade, was characterised by exchanging cheap plastics, alcohol, glass, weapons & other low value commodities, from Europe; for gold, ivory, other mineral wealth, flora & fauna, from Africa. This is how it started.
Then to forestall rivalry the Berlin Convention 1884, partitioned the continent, according to rules of aggression; allowing for 'civilized' Europeans, to claim territory by war & violence against the people of the continent, thereby legitimizing their possession of said territory.  This is how 'White farmers' in Zimbabwe, or Rhodesia, as it was called, after the psychopath, Cecil Rhodes, emerged. Hence, the birth of colonies & a new enslavement of Africans, this time in their own countries. Harnessed in the Brussels Conference Act of 1890: Convention Relative to the Slave Trade and Importation into Africa of Firearms, Ammunition, and Spiritous Liquors, the situation remains unchanged. The benefits of this cruel exploitation, is seen in the economic development of Europe, though one wouldn't know it, for their narcissistic reinterpretation of this period, which built the foundations & produced the building blocks, of Western European economies today.
Fast forward a few decades, after a bloody fight for independence & it's exactly the same scenario. Only this time China & USA have joined the fray. Compare King Leopold's letter of 1883, to missionaries:
 "Evangelize the niggers so that they stay forever in submission to the white colonialists, so they never revolt against the restraints they are undergoing. Recite every day – "Happy are those who are weeping because the kingdom of God is for them." 
To Donald Trump's speech to African leaders at the UN, 20.09.2017
"Africa has tremendous business potential," Trump said. "I have so many friends going to your countries trying to get rich, I congratulate you. They are spending a lot of money. But it does, it has tremendous business potential.
Or this call from Germany, in June 2017, reported by the Express:
"Appearing before MEPs in Strasbourg, Ursula von der Leyen, revealed the bloc significantly wants to up its military presence in Africa in particular as it looks to assert itself on the world stage".
There's nothing new under the sun, the saying goes. It's easy to spot the patterns. As I prepared to write this instalment, I researched videos and news articles from different African countries. I've always said it but now I reiterate it, for the fools on the African continent that call themselves leaders. 
"The danger to you is existential & virulent. Within a generation you will have an apartheid system in place again (this was not just a policy of Boars in South Africa but all 'colonial masters'). You're being used & impoverished, while being told its for your betterment. You are under an active, real & cruel agenda from Europe, right now. As you hurtle head long into the worst of your psychopathic mistreatment, understand you will not escape, so easily this time.  Wake up to Europe's intent. Understand, as you engage in petty ethnic rivalry & kleptocracy, the greatest danger to you is Europe, not each other".
The examples of Trump & Ursula von der Leyen, is the strategy, encased in macro "policy," legitimised by institutions such as European Union & the United Nations, where 5 countries hold the fate of the world in their hands. 3 of them Western countries, with a history of colonialism, of bombing, of torture, of cruelty, of mass murder, of systematic brutal & barbaric racism, of the worst dehumanization in history, the 400 - year history of human trafficking, when people were transported as cargo, across the Atlantic.  As the Bible says, by their works shall you know them. These Europeans, giving aid to the terrorist state of Israel, tell us all, what we need to know by their actions.   
How is it possible? That knowing all this, Europe remains able to undermine & demean a whole continent of people, thousands of miles away, in their own countries? Of course, the obvious, is as I stated above, sheer aggression.  The second, international development. The 'soft' power, the aid.  Among which is the aid of 'donating' end of life computers & electronic equipment, to countries like Nigeria & Kenya, to pollute & poison. World Bank, IMF loans; loans that subsidize the West's economies, by providing burdensome 'financial assistance', for 'infrastructure' contracts, awarded to the same countries, providing the loan. All this driven by great PR & visits by Western 'stars' taking a break from their drug fuelled, over indulged lives, to take photos with dirty, poverty stricken, disease ridden Africans, ostensibly to raise awareness, of the problems in Africa. Such cynicism is beyond satanic.
With UK & France due to fall out of the top 10 economies in the world, a mature economy & competition from BRICS, there's only one place to go to maintain their standard of living – Africa; at Africa's expense. They are doing this with vicious, cold, calculating precision.  Find some examples of the psychological, overt tactics being deployed at this moment. 
International development equates to Christian missionaries of old. The same use of indoctrination through 'education,' the mediators between European task masters & natives, purveyors of lies & deceit, aiding nothing, except an agenda to steer the continent, into a false sense of security & European control. We know for a fact that capital flows from Africa to Europe.  All with the help of Western international development agencies, whom provide aid to Africa, by enriching their own continent, to the tune of $400 billion/ annually.  Great stuff!! The real development Africa needs, is for the West to curb it's greed. The world's resource is finite.
"
You may be interested in these jobs
Found in: Talent GB Sponsored - 5 days ago

---

SEN Teaching Assistant · Hounslow · Ad hoc and Long term work - sep 2022 · Are you a specialist SEN Teaching Assistant looking for a new role? Are you experienced in working with children who have complex needs? Are you trained in using different strategies to support SEN childre ...

Found in: Talent UK - 5 hours ago

---

SSE Enterprise

South Lanarkshire

Permanent - Flexible

About the Role · Base Location: Field Based but able to travel to SSE offices as required · Salary: Competitive + car / allowance + performance-related bonus + a range of other benefits to support your family, finances and wellbeing. · Working Pattern: Permanent | Full Time | o ...

Found in: beBee S2 UK - 6 days ago

---

ACADEMICS

Halifax

["TEMPORARY","FULL_TIME"]

Academics are looking to recruit experienced behaviour support specialists to join us for multiple opportunities in a well-established alternative provision based in Halifax. The roles are focused specifically in KS1 / KS2 / KS3 / KS4 with students with challenging behaviour and ...