5 years ago · 6 min. reading time · 0 ·
Exceptional Employees - and where to find them
I've worked in a number of different careers over the years, and I've been fortunate to encounter a lot of great people whom I've had the pleasure of both employing and working with, some abled, some differently abled.
One person I encountered along the way illustrates to me more than ever why broadening the talent pool is so vital for employers – because the label of a health condition or a syndrome does not define spirit or ability.
Meet Gina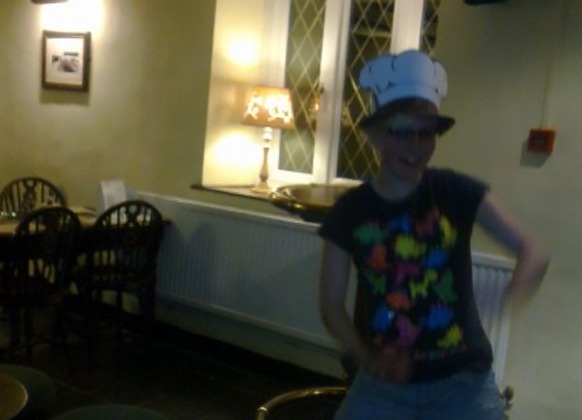 Gina had cystic fibrosis – I knew sufferers of CF needed daily physiotherapy, constant hospital admissions and had shortness of breath and a short life expectancy, however Gina (known as G, or Georgina to her Mum!) was also diabetic and suffered serious bowel, liver and kidney complications, cellulitis, multi-site skin breakdowns and at one stage she had to have a stoma bag on her side.  If I'd only had a CV with the list of her illnesses and multiple complications  it's fair to say I would have wrongly questioned her ability to work – but I wasn't looking for staff anyway.
Meeting G shattered every pre-conception I had.
I've owned a number of food businesses over the years, one in Wick, named South Wales Village of the Year in 2008.   Gina came in for food the day after her eighteenth birthday, and it seemed had an appetite to match the abundant energy which announced her presence, she ordered a large portion of sausage and mash, made me laugh and left a lasting impression.  I simply could not believe that this livewire had any limitations – she was amazing, fun and bright as a button – she also loved to dance – as shown in the picture above!
Creating an opportunity
I've always said the most important attribute for people is attitude – anything else can be trained.
A few weeks after meeting G, she told me she intended to set up a small cleaning business because no plumbing firm would give her a chance at a job, (despite graduating top of her city and guilds plumbing class and winning an award), and she couldn't get insurance to work as a self employed plumber.   Nothing was going to stop this young lady.
G asked if I had a cleaner.  I actually had no intention of hiring one, but she pointed out I could use a few extra hours in bed, and she'd work three hours a week on a Friday.  It seemed a reasonable offer, but with that much tenacity and all that spirit, if she'd told me she was going to work for me as a General Manager, I'd probably still have hired her – she's one of the most switched on people I've ever met.  She also helped out a few times at special events, and which ever section she was helping on, she took charge, with common sense in spades, a natural authority and an absolutely wicked sense of humour.   I'd also add that on the few times the drains got blocked, a washer needed changing or a sink needed plumbing, she also obliged!
Energy, commitment and motivation
This very sick girl endured physio on her lungs daily, countless hospital admissions, and was almost certainly one of the 'sickest' people I ever met, but all I remember about her was that she came into work on time, made me laugh, could run rings around me energy-wise and she was damn good at whatever job she did.  She never mentioned the morning physio or feeling rotten.
She was one of the most committed workers I've ever had.  Nothing stopped her, apart from when in hospital (sometimes coming in even when only discharged the day before).  She never once moaned, she always over-performed and more than anything she brought with her a zest for life and an unbelieveable energy.  She also fixed the plumbing for me as needed.
In later years, G went on to work for a supermarket chain, living life to its fullest and being 100% committed through some horrid health challenges.   She'd hate the word 'disabled', G was the first to volunteer for everything.  She used to say she was 'Marmite, love me or hate me!' because she loved to shock, but she was so entertaining, so hard working and so damn unforgettable it was hard to not love her.  I called her the weeble, because no matter what life threw at her, she always bounced back up.
Why SHOULD we need schemes to get more diversity in the workplace?
While Gina created her own opportunities, there are schemes to help employers increase diversity.  However, we don't 'mix' enough with people outside our social groups to learn about diversity, even outside employment. Some employers don't know enough about the reality of living with a an illness or a disability and fill in the blanks with fear.
I have several friends with disabled children who face this prejudice on a daily basis.  One, Kristin, who also lives close to Wick, set up a Facebook page for her son, Gwilym, who has Downs Syndrome to help educate people that he is just a normal child with an extra chromosome that makes reaching milestones a little harder.  I love reading his updates and watching his achievements, and have learned much about DS as a result.
Thankfully, Gwilym can look forward to joining the workforce when he grows up, thanks to exceptional adults like politician and actress Sara Pickard (who says Downs Syndrome – so what!) and Woman of the Year, open water swimming champion Karen Gaffney (who among her achievements champions diversity at the UN).  They are among many inspirational people who have broken barriers in terms of what can be achieved by adults with DS, and a scheme called DS Workfit is helping to change attitudes and improve employment opportunities for other workers with DS.
There are many schemes , local and national, to increase opportunities to get disabled people in work and I'm definitely in support of anything that increases diversity.
However it's sad that it takes a scheme to get a good, capable candidate in front of an employer.  It isn't just a charitable gesture to employ them, they have skills to offer like anyone else.
It's not like disabled candidates don't apply for normal jobs – they just don't often get the chance to shine at interview, having been rejected at CV stage.
Making reasonable adjustments
I'll wager that many of the recruiters reading this have received CV's from disabled candidates.  There is a fear about the huge adjustments they could possibly have to make – but conquering the fear and actually asking will usually reveal only small, manageable changes.  By pre-judging and not interviewing, you could be missing out on an exceptional employee.
Even 'everyday' people can be sick – and employers then have to deal with it anyway, some better than others.
I need reasonable adjustments myself - it's not a big deal unless you make a big deal of it
I suffer from blackouts – a former employer threw a bigger fit than me after I had a seizure and fell into a desk at work.  He screamed about 'special insurance', he told me I would have to wear a crash helmet to work, shouted at me in front of the whole office for asking to go home early after the seizure (my first day off sick in the 4 months I'd worked there).  He also made a point of buying rounded corners for every single desk in the office, saying very loudly to anyone who'd listen that he'd had to buy them because of 'her'.   Needless to say I moved on soon after that.  I suffer with seizures, but I don't suffer fools!
All I actually need is tolerance if I'm feeling a bit dopey, and provided I'm safe, to be left alone after a seizure (they are infrequent anyway).   A former colleague who had night-time seizures simply needed to be given a little slack to be late once or twice a month, as it took him longer to get ready after a seizure. Neither are huge adjustments.
Gwilym, when he is old enough to work, will only need small changes in the way instructions are communicated to him and he will be able to succeed like any other employee.
In terms of reasonable adjustments, all Gina needed at work was time off while she was admitted to hospital – and that was never a problem because she was so committed the rest of the time.

A last word about Gina
I'm sharing Gina's story because while she was one of a kind, and a truly exceptional 'employee', she also missed out on employment in her chosen career despite being an exceptional plumber – all she needed was somebody to give her a chance, like I did... and she never gave up, on life or on her career, right to her last breath.

There is more to Gina's story – she underwent a pioneering 5 organ transplant late last year.  For the first time in years, I was able to talk to her over the phone.  I last spoke to her a few weeks before Christmas, and characteristically, she made me laugh.  
Unfortunately one of the transplant organs failed, and her lungs finally stopped working a short time later.  Our brave friend, colleague and inspiration lost her battle a few weeks ago.

Gina's final journey was fittingly in a motorbike hearse.  She'd have loved that.
The best tribute I can give to my amazing friend is to follow her example and challenge the barriers to employment just like she did - so if you are in HR or recruitment, and reading this, I'm issuing you a challenge.
My challenge to recruiters
Despite all she went through Gina never, ever moaned or cried in front of me.
If her story touches you, I'm challenging you not to shed a tear for her, but instead to see a CV on your desk and look past a gender, someone's sexuality, someone's health condition or syndrome.
Take a second to give someone a chance - it's only an interview.  Ask what reasonable adjustments you would have to make - they may surprise you.  Don't just do it for Gina - do it for your business... you could be missing out on an exceptional employee.
"
You may be interested in these jobs
Found in: beBee S2 UK - 4 days ago

---

This small, friendly 11-16 school is committed to providing an inspirations and exceptionally caring community for the young people who choose to study there. They are are a 'Good' rate school and are looking for an outstanding English Teacher to join their fantastic English Depa ...

Found in: Jooble GB - 6 days ago

---

Work Place Doctors

Scotland

Full-time

Agriculture / Farming Occupational Health Adviser (OHA) Scotland United · Kingdom via Workplace Doctors on a fixed term / permanent basis.***Location: Scotland United Kingdom · ***Speciality: Occupational Health · *** Sector: Agriculture / Farming · ***Grade: Occupational Health ...

Found in: Ziprecruiter GB Test30 - 5 days ago

---

TeacherActive - Liverpool

Chingford

Job Description · HLTA · £75 - £100 a day (experience dependent) · Start Date: · December 5th 2022 · Are you a dedicated Primary · HLTA? · Do you want to help improve the lives of young people? · Are you naturally patient and empathetic? · Teacher · Active is looking for a dedic ...