Feeling the Holiday Heat…….in more ways than one.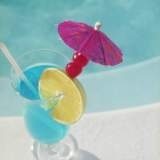 Over the years I've learnt some self – discipline regarding the purchase of souvenirs while on vacation.  Typically, I'd get back, unpack and find I've gone overboard buying all sorts of 'Made in China' replicas of the Eiffel Tower or such, beer coasters with map of Cyprus, or plaster cast of anything that is considered the iconic representation of the country or city, I'm visiting.  As I say, this stopped way back and I instead concentrate on experiencing lots of different tours, sometimes relying on my own itinerary, if I feel safe enough.  However, one cannot get away from the purchase once in a while, of what I consider quality, useful things.  That might be art or perfume, for example.  Which leads me to the title, feeling the heat.
I don't know whether it's the holiday feel that makes one throw caution to the wind, or a sense of supporting locals (when in less well- off locations) or just an innate trust in me but even here I find I've come off the worse for it, including while sticking to experiences and tours!  So for all of you reading this, a cautionary tale.
In Cairo I was cheated by the guide, yes the very guide assigned to me, by the tour operator.  Unfortunately for him, it cost him his job.  He charged me £15 for a 5 minute camel ride at the pyramids and demanded that I pay the camel owner £2 at the same time.  It turns out all I needed to pay was the £2 for the ride of no more than 5 minutes.  The £15 went in his pocket, even though I questioned why I would need to pay £15 and forcibly pay another £2, as a tip to the fellow.  As he was a private guide, let me assure you a cheated me more than once, culminating in my having to make a formal report.
On another trip to Egypt, In Hurghada, one of my favourite holiday spots, I learnt the hard way never to leave a vendor unattended, in Egypt.  Famed for their oil based perfumes I decided to buy from a store in the hotel, for quality and confidence.  Huge mistake.  While the 3 bottles I bought soon after my arrival were fine, the last bottle of rose oil, bought just before I departed was mixed with alcohol, a common practice, I've learnt.  So how did this happen? I needed to get money from the cash machine and those couple of minutes was enough.
In Marrakesh another of my favourites, I bought spices at the souk (bazaar) at a higher cost than at the duty free stores – bearing in mind that things are more expensive in formal stores where overheads and rates is factored in.   What was suppose to be tagine seasoning….. the mix of spices given Moroccan tagine their unique flavor; was not.  Having said that I got saffron at a fantastic price from another vendor.
In Cyprus, Pathos, leaving my laptop behind cost me dear.  Unable to log -in using my phone, I was put in a room without air- conditioning, by the receptionist and asked to pay a significant sum extra, even though I had booked a room with air – conditioning. Tired, I was in no position to argue.  I did without!
Of course one has to consider that as a tourist locals believe you're there to spend money and it's their right to relieve you of as much of it as they can, rightly or wrongly.  From excessive taxi fares in Italy (they do this to tourists in my home city of London, by going the longest route possible) to Gambia, it seems once you go on holiday, you'll feel the heat in more ways than one!  So take caution, do some digging before you leave.  Luckily the web is a repertoire of reviews and experiences that can help a frazzled vacationer, so you don't get back from your holiday fuming, it'll be self- defeating.
Ps.  No not everyone in these locations are cheats!!!
You may be interested in these jobs
Found in: Talent UK - 3 days ago

---

Lidl GB

Aberdeen

Part time

What you'll do · Maintain a clean and tidy store, focusing on customer-facing areas · Maintain the outside cleanliness and tidiness of the store e.g. trolley bays and the car park · Clean the warehouse area including the waste and recycling sections · Operate industrial cleaning ...

Found in: Jooble GB - 19 hours ago

---

BARDWOOD SUPPORT SERVICES LIMITED

Newport

Full time

BardWood Support Services are currently recruiting on behalf of our client for Area Security officers that can demonstrate the confidence, experience, drive, flexibility, and determination to provide the highest standard of operational service within a busy environment. The ideal ...

Found in: Jooble GB - 3 days ago

---

Page Personnel

Haywards Heath, West Sussex

Warehouse Assistant / Haywards Heath / Logistics · Client Details · A well respected Haywards Heath employer are seeking a temporary Warehouse Assistant for an on going assignment. · Description · As Warehouse Assistant you will be responsible for maintaining a clean and safe ...