How to stay productive when you are working from home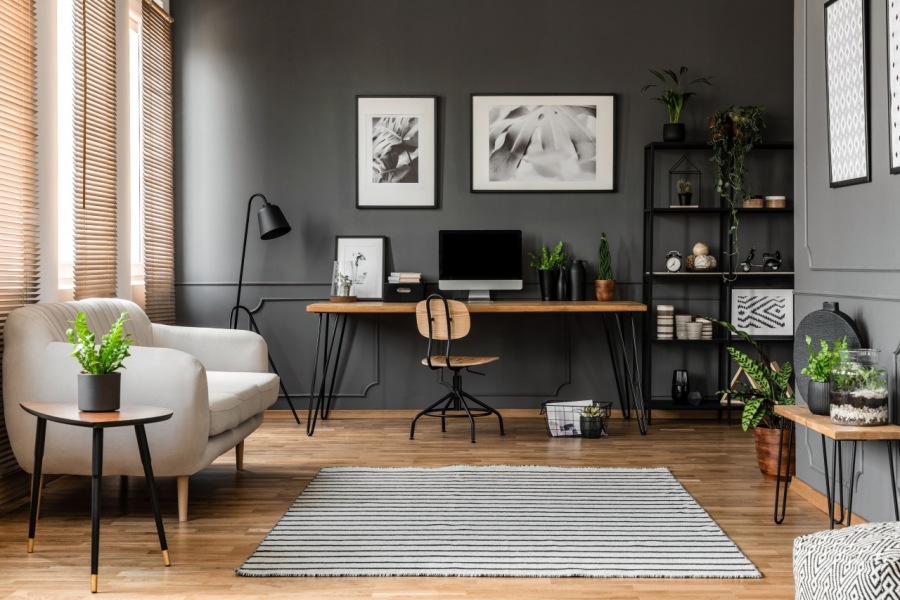 Working from home comes with a lot of advantages. You can avoid the rush hour, limit distractions and get more work done.  But it can feel a little isolated at times, which can be particularly difficult when you are facing challenging times. Even though you are not leaving the house, it's essential that you can separate your working hours, as it's really easy for your work and home activities to merge. I've spent the last three years running my business from home as a new mum and here is what I've learnt about making working from home an enjoyable experience:
1. Leave the house as often as you can
If you can avoid sitting at home with your laptop all day, do it. Take your phone and laptop with you and go to your local café, or co-working space, or anywhere where you can get Internet connection. It's really refreshing not to be at home all the time and chances are you will meet new people and get new ideas. So be out there as much as you can.
2. Get ready for a day in the office in the morning
Your home is your office. So start your day at the same time every day if you can, and don't start working until you look and feel ready for the day ahead. It will change the way you look at your working day and feeling good will have a great impact on your confidence levels.
3. Set your agenda for the day
Plan your tasks, calls, breaks – the more detailed the plan, the better. Having a set plan helps to avoid distractions and it will help you achieve your objectives easier if they are broken down into little tasks. I use a to do list with two columns – the urgent tasks and the important tasks. I get started on the urgent ones, although they are often those that I would rather avoid.
4. Create a designated working space
Your home office set up makes a difference too. Avoid sitting on the sofa in front of the TV. If you can, set yourself up at a desk that has everything you need – mostly enough space and a comfortable chair. It will help you separate work from leisure, and to keep your mind focused.
5. Organise yourself in a way that works for you
For some people, organisation means files, drawers, neat stacks or no stacks at all, and a complete lack of clutter. For others, organisation simply means knowing where to look and being able to find what they need right away. To make your life easier and save yourself a lot of time, have what you need in an easily accessible place.
6. Give yourself a break
Try to have at least a few breaks during the day and definitely make time for lunch, preferably not at your desk. If you can, try to mix your breaks with social interactions – even if you don't feel like seeing anyone. It's good for the soul and will help you to relax in between tasks.
7. Set your daily working hours
Working from home can easily turn into a continuous all day activity and before you know it you have spent the entire day in front of your computer. To avoid being overworked and unproductive, set your daily working hours and do your best to stick to them. By working ridiculous hours each day you are more likely to become less effective and more tired. 
https://www.squirrelsandbears.com/blog/how-to-stay-productive-when-you-are-working-from-home
You may be interested in these jobs
Found in: Talent UK - 3 days ago

---

Delta Hotels & Resorts

Birmingham

Full time

Position Type · Non-Management POSITION SUMMARY Respond promptly to requests from guests and other departments. Fill cart with supplies and transport cart to assigned area. Enter guest rooms following procedures for gaining access and ensuring vacancy before entering. Replace gue ...

Found in: beBee S2 UK - 5 days ago

---

Development Bank of Wales

Cardiff

Full time

Reporting Accountant Wrexham / Cardiff £Competitive Salary We have an exciting opportunity for a Reporting Accountant to assist with running the accounting functions and provide exceptional financial support for the management team. · Within this role you will prepare the monthly ...

Found in: Indeed UK - 5 days ago

---

CARDEA HEALTHCARE LIMITED

Maidenhead

Permanent

Cardea Healthcare is a specialist healthcare recruitment agency providing home care services. This position is working with a variety of clients including elderly, those with learning disabilities and individuals who are nearing the end of life. · Job Summary · The main responsib ...