6 years ago · 2 min. reading time · ~10 ·
I knew it was a fake - but my Curiosity got the Better of Me
Originally Published on LinkedIn 
  Dec 3, 2015
Yesterday I received a connection request.  I carried out all the checks, the profile image was correct - the work history was accurate, the education matched.  
In fact it was a little too good - and I knew it.  But my curiosity to see what would happen got the better of me.  
We keep reading, and I have written, about fake profiles where the details do not match, the name is a fake and the details given are totally inaccurate.  But what about the time where the profile has been submitted by someone pretending to be a real person and a famous or powerful person at that.
The man whose identity was used was Igor Sechinand I knew the name seemed familiar.  I looked at the profile, noticed the number of connections was only 249 - this seemed a little too low and raised my suspicion.   I read the details of the profilee's education and work history - and it was well written - and as shown below, accurate.  The picture used 
 was checked via Tineye and Google Image Search and TinEye identified the image was cut down from a news item but it was the person claimed in the profile (that in itself was a clue that things were not as they should have been as a person with this sort of connections would not have to use a cropped image).
The real image 
was from a meeting where the Russian Gas Giant Rosneft was in negotiations with the Government in Mozambique (the gentleman with Mr Sechin is Minister for Foreign Affairs of Mozambique Oldemiro Julio Marques Baloi,)
In fact part of the check I carried out was on the website of Rosneft where full details of Mr Sechin (in fact I think that was the source of the details provided in the fake profile as the texts were almost identical).  (In fact this website was very well designed and gave a lot of open information - something other corporations might consider doing.)
And because of these details being openly available, the person effectively cloning Mr Sechin's has probably made two very big mistakes.
He tried to connect with me - with my being the type of person who would check the details beyond normal and write about it;
Please read Mr Sechin's Resume as listed on the Rosneft Website.
I knew it was too good to be true that a person of the stature of  Mr Sechin would wish to connect with me - but I was curious to see what was actually going on - so I decided to accept the connection, purely as a form of research to see what would happen.  
Of course the inevitable message arrived:-
Igor Sechin     Mr. Martin, It's a pleasure to connect with a professional like you too through LinkedIn. My interest in reaching out to you is because of my desire to discuss a possible partnership which might... see more

But when I clicked the "see more" it went to a message from an African Musician with whom I had connected previously (A genuine musician) so I checked Mr Sechin's name and the profile had been removed.
Now this scammer has created two victims of this attempted crime, me (although I had my eyes open and decided to go with my curiosity) - and Mr Igor Sechin, a gentleman of renown for whom the scammer tried to clone his details and who had no idea his name and details were being taken in vain.
But I have to say I am impressed by this faker's resource.  He stuck to the right identity, details, was accurate in his research, well thought through, good grammar - in fact avoiding most of the traps that scammers usually enact except one, and I will let you say to yourself what it was - as I am sure you have figured it out.
I have previously written about what scammers trying to create connections and the techniques they use.  In fact many others have also written about this too.  However, one other thing I am also aware of as we detect, write about, and detail how the scammers work and the mistakes they make - then the level of sophistication they will need to employ to get through will also increase.
All of the techniques one can employ to check the details can be got around (as this little post shows) - except one - our own B.S. detector.  If something seems a little too good to be true then it is
Below I have put links to some of my previous posts on this subject:-
https://www.linkedin.com/pulse/fake-profiles-strange-coincidences-martin-wright?trk=mp-reader-card 
https://www.linkedin.com/pulse/small-trick-help-find-connection-request-fake-martin-wright?trk=mp-reader-card 
https://www.linkedin.com/pulse/another-scam-martin-wright?trk=mp-reader-card 
https://www.linkedin.com/pulse/scammers-ride-again-martin-wright?trk=mp-reader-card 
https://www.linkedin.com/pulse/look-out-scam-email-martin-wright?trk=mp-reader-card 
These posts are in reverse order, but they show not only some of the different types of scams, but also show the path of learning I have gone through while finding, checking and developing the skills to protect oneself.
If you have had a similar experience please comment and relate it - it is only be finding out how they work we can find ways to stop these crooks.
"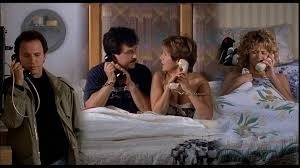 5 years ago · 3 min. reading time
When Harry Met Sally was the date film of the late 1980's famous for that scene in the restaurant. I ...
You may be interested in these jobs
Found in: Talent UK - 3 days ago

---

Willis White Associates

London

Permanent

Apply for Civil Infrastructure Project Engineer - London · Fields marked with an asterisk (*) are required

Found in: Recruit.net GB - 2 days ago

---

Prokter and Gamble

Reading

P&G is a leading global consumer goods company whose winning brands are built around the model of innovation. Whatever your passion is, we want to ignite your potential to become your very best self We hold true to our purpose, values and principles as we seek to make a differenc ...

Found in: Talent UK - 2 days ago

---

Suffolk County Council

Ipswich

Part Time

St Matthew's C of E Primary School, Ipswich IP1 2AX · £19,264 pro rata · 27.5 hours per week, 8.45am - 3.15pm · Fixed Term until 31 August 2023 in the first instance · Reference: 7035 · Required from as soon as possible. · St Matthew's is a large, diverse church school w ...