Look Up At the Sky Everyday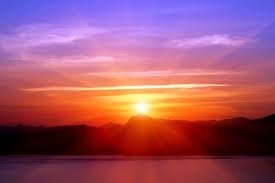 I'm not sure exactly when or what prompted me to take a conscious, reflective look at the sky. I do remember though that it was one evening, as I was about to draw the curtains that I appreciated the sky for the first time. For me and I hazard a guess, most people, my daily life is consumed with eye- level living. Everything happens here it seems. People… eye contact, greeting, talking. Domesticated pets… woofs and meows…..cars and polluting particles… eye level. Then there's the peripheral and less frequent look to the ground. Getting on public transport or a car, instinctively checking the pavement, so I don't trip, picking something off the floor and the daily/weekly chores.
I remember once, going down the ever busy Oxford Street, London, on the top deck of a bus and noticing the architectural beauty of the buildings for the first time. At eye level everything is so busy, cluttered and even with the store displays, unappealing. I wondered then how much I was missing by not taking note of my world above eye level but still I did not consider looking further up at the glorious sky, as part of my daily repertoire for living.
I meditate (a blog for another day), I listen to soul uplifting music and beautify my inner home world, with mood lights, mini water features, fragranced humidifiers and plants. All this to break the mundane of living and bring an enhanced spirituality, into my 'material' world. The sky however, I somehow missed, until that day I was drawing the curtains.
Being upstairs, fortunate enough to have a view overlooking the park, I took stock of the horizon. It was really beautiful. Orange, yellow, pink zig- zags, with a hint of brightness from the setting sun or was it the rising moon, against a backdrop of dark but not mid – night blue. Spectacular! I thought why hadn't I noticed this before? What a wonderful world. I realized at the moment I was a spec in the universe, a living creature on a planet. It was almost like you see in si – fi films or documentaries of distant planets. Importantly it made me feel at peace, those problems, those constraints of life, are actually very small and insignificant. I immediately resolved to look up at the sky, not just for the beauty of it, day, evening, night but also as a reminder. A reminder that there is far more to life, than what the eye perceives; life limited and constrained. Above my head a never ending expanse of life unrestrained.
Since then, I have made a habit, of looking at the sky and seeing the huge dome that hangs above my head, with a promise of the unlimited. It is a wonderful metaphor, for living and reminding myself that no matter what is happening at eye level, there is so much more and all I have to do is remind myself by looking at the sky. Try it, you'll be surprised how liberating it is.
Image rights deviatart.com
You may be interested in these jobs
Found in: Talent UK - 3 days ago

---

Specsavers

Craigavon

Permanent, Full time or Part time

Competitive salary package up to £30K (depending on experience) · Genuine career progression · A strong performance-based bonus scheme · Pension contribution · Outstanding clinical and professional development opportunities · Support with CET · Access to the latest clinical te ...

Found in: Jooble GB - 19 hours ago

---

Shoaleh SJ PA Ltd

Devon

Full time

Shoaleh SJ PA are recruiting We are searching for experienced Lifestyle Managers and Administrators in East Devon. There are various positions available across a range of industry sectors. Shoaleh SJ PA provides clerical assistance to business owners across the South West. We hav ...

Found in: beBee S2 UK - 4 days ago

---

Fresh Recruitment

Reading

Full time

Our client is a thriving Big Data consultancy and they are currently looking for a permanent Hadoop Administrator to join its team. · Description · The Hadoop Administrator is a member of the Delivery team and will act as the technical leads and work on some exciting, distributed ...