5 years ago · 2 min. reading time · ~10 ·
Mama's nose knows
Deb🐝 Lange gave us such an intricate honeycomb of delights in her well-crafted buzz: Smell - a neglected sense in which she explores the less obvious ways this sense serves us. I wanted to give her back my example, but it was too long (I'm still new here..and in the 'special' section of kindergarten :))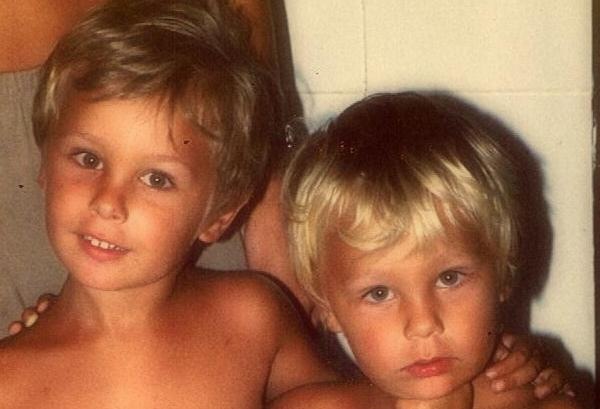 These here are my babes. I had a rather long dilemma with myself whether to put the pic up or not....is it 'perv material'? I tried messing with it to the point of it looking like a spectacularly dreadful piece of art we would see at the Serpentine at Hyde Park when they were wee. So I made it just a bit fuzzy....
The young'un (referred to in the story if I EVER get to it) is my silverback - 6'4'' and about 250lb of muscle - he's a gentle giant.
Apologies - I digress. I do that. A lot. Back to the point!
My younger son when he was about a year and a half, lay in his cot - a room he shared with his one- year older brother. Just quickly; we were life-long restaurateurs. As a Chef, smell is very important for all sorts of reasons, but also to gauge both staff and punters! I could smell the fight about to break out between preps or wash-ups. I could smell those who would take us for a ride (always a few in that type of business). I 'smelled' the perp hiding in the empty restaurant who had just stole some stuff, and I could smell trouble a-coming.
Back to my son. We had gotten home from work very late (this was a restaurant/nightclub in Spain, so they stay up LATE!); my sister who looked after the kids when we worked was asleep in her room. The kids room had one of those door-gate thingies (ode to thee, Gerald Hecht) that keep toddlers from wandering off. As parents, both my husband and I were very blessed to be of the same mind about child-rearing; love unconditionally, but keep fixed boundaries 'visible' for the child: a happy child knows where safety is!
So we checked in on the kids and something made me step over the gate, gather up the sleeping babe and bring him into our bed. My husband protested - we never do that...different if they come to us for the usual night-time reasons. He questioned me; 'dunno..', I said, '..just doesn't smell right.' In fact our son looked fine, normal temp, sleeping soundly - made me wonder too! Soon we were all asleep, the baby between us. Maybe an hour later I woke, but for no reason; no 'movement' or bodily function to bring me to. I turned my head to my babe and there he was,  staring right back at me, eyes wide and glazed, body still as a rock. He was blue. Pure instinct drove me to grab him by his heels and wallop his mid-back. Out shot a bullet of dry vomit. It took all of 10 seconds from me asleep to him alive. He recovered just fine..drank more water since :)
My Trevor has his first child on the way now, something that would not have happened if I hadn't been so blessed. And no - that's not his real name....you really think I'd be that cruel to call him Trevor???? (apologies to any Trevor out there but, damn...what were your parents thinking?).
Yes, yes, yes - trust your sense of smell! It is a wholly under-estimated but the most powerful tool in the arsenal of intuition.
"
You may be interested in these jobs
Found in: Talent GB Sponsored - 3 days ago

---

Come and join us as a Call Centre Operator at Yunex Traffic and be a part of our Contact Centre team in the Service Operations Centre. · Purpose of the role · The role is responsible for the correct handling of various faults relating to traffic aswell as other various businesses ...

Found in: beBee S2 UK - 1 day ago

---

Opinion Groups

Durham

Full time

Immediate Start - Earn Extra Income In Your Spare Time · We are currently looking for members to start working online and from home - flexible hours. All you need is a smartphone, tablet or laptop to get involved. · Cashback UK could help you earn extra income to put towards wha ...

Found in: Talent GB Sponsored - 6 days ago

---

Prestige Recruitment Group

Liverpool

Financial Services Compliance Consultant · We are really pleased to be working with this Liverpool City Centre based Financial Services organisation that over the last 12 months has grown dramatically. · Salary is dependent on experience. · As a result of growth, the Financia ...