4 years ago · 3 min. reading time · ~10 ·
Mercy; a winter tale
The child, capped and jacketed, little more than a scrap, stood stock-still in the snow. The only light that shaped him came from this cabin, and it was poor at that. She'd seen him before, from this very window, unflinching and immune to distraction, unrelenting in his accusation. Every year in the past score, he'd become the fixture she dreaded most about winter. It was an omen of some sort, she was sure of it. Something new arrived with him. What was it? Esther, hands trying to fist within the cold water, pushed her face over the sink to stare defiantly close to the pane that refused her curiosity by misting up. What did he want, she asked herself; not for the first time.
The first few times she'd tried to get him in he'd simply disappeared by the time she'd opened the front door, only a few steps away. Bolts thrown and rugs kicked away, she'd called to him, 'you, chile…come here, come in!', only to have her words thrown back at her by the dull tomb of snow and unrelenting cold. She'd go back to the window to find him gone; until the next night when the few frantic seconds would play out again. After a few attempts – not many, she gave up. It wasn't just the dawning that the boy may not be real, or the worry that her sister would either hear her calls or would be further weakened by the loss of the scant, precious warmth; it was the notion that had crept further into Esther's head, of foreboding. The last thing she needed was more fear to take grip.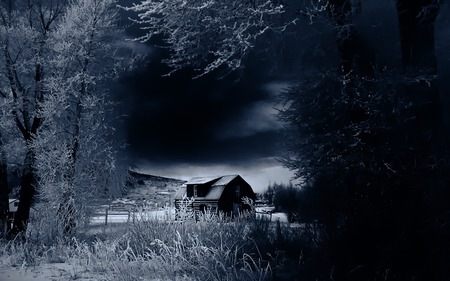 This night, rattled by something indiscernible Esther hesitated before drawing the curtain. Since that first winter the lad showed, she'd traded some smoked fish for cloth during her thrice-annual trip to the town, alone: The town-folk thought her mute; she never spoke….just handed over her list. And fey, and they didn't pry into her likes and the few early encounters she'd had with the town's children kept them away; she'd honed her tracker-skills to be invisible. She returned with her essentials, and cloth, after seeing to the horse, she'd asked Lily to sew the heavy drape to 'keep in the heat'.
Her sister, Lily, had a fine hand and good eyes for such things. Esther knew it was also a good distraction for her broken mind and body. She'd slowly dissolved in the thirty-odd years they'd been here. Esther laid helpless fury of her decline; first crumbling into a brittle wax-paper ball of unbearable grief that would never un-furl, the sharp edges relenting to sodden fragility, her sister – her beloved sister, shrank into the world between; too small, and really, hardly a wisp of herself anymore. Even back then, dust settlied into stalactites formed quietly from Esther's private tears; a barrier to the past that she no longer dared to hope would lead to resolution – maybe, acceptance. Nowadays, Lily's routine was to keep to her room come sunset. Like she knew of things to come.
After getting her sister abed, Esther tried to sleep. Lord knows her body was spent. For just one of many times since so much water has driven under their bridge in the years past, Esther had to face 'reason'. Her fear drew tighter, closer, like a weathered shawl as it dawned; her own body was giving in to age. That boy; whippoorwill, banshee, maybe apparition, he wanted something. His incessant calling had to have a purpose. For the first time in her life, Esther wondered if that…phantom...was there to exact a price. Her journey, her purpose, her guilt…did it have anything to do with her sister's need? Had her act of 'saving' her sister and her child…was it wrong? What had she stolen in the frantic, protective love for her sister…in her God-feared task….could it be possible it was not meant to be? She knew her sister's lament; the loss of her child during that arduous, prolonged trek, away from what Esther deemed her kin needed saving from. Did she do wrong? It was too long ago…..but Esther knew the brutality she wanted to prevent was paid in spades, in full; no matter what.
That very time that Esther pulled the kitchen-sink blind back open was the same moment Lily drew beside her. Unbidden, unabashed, confident, enthralled and excited as as a child on Christmas eve. Unnerved yet with a sense of rightfulness, Esther did not glance her way; she felt her rather, and they both looked to the window together expectantly. In the briefest of basic understanding, Esther allowed her sister freedom, and Lily extended gratitude. It was, at that brief glimpse, understood, unspoken. The boy-child was back in the radiant gloom; this time, what has niggled Esther before stood beside him, holding his hand; their mother.
Lily, so long a melting mass of fragility, took her sister's hand without fanfare. Some part of Esther melting shield was release. 'It's time', Lily said, her face calm and youthful; full of hope that Esther had long forgotten; it took her breath away. 'Yes, my lovely' Esther said smiling with a gentle love denied her for way too long, 'let us go to them'.
You may be interested in these jobs
Found in: Jooble GB - 6 days ago

---

Little Ones UK Ltd

Kensington, Greater London

Nanny needed by a family in Kensington, London for a Full Time Live Out role to help them look after their toddler and nursery school aged child. The family would prefer someone who is friendly, kind, loving and would make sure to keep the children entertained at all times. · Th ...

Found in: Technojobs UK - 1 week ago

---

Rise Technical Recruitment Ltd

Glasgow

PERMANENT

Energy Surveyor (Building Services) · Glasgow · Salary negotiable depending upon experience + Excellent Training + Progression + Private Health Insurance + Life Insurance + Company Pension + Flexi-Time · Are you an experienced energy surveyor who is looking for an opportunity to ...

Found in: Ziprecruiter GB Test30 - 5 days ago

---

Job Description · SEN Teacher of English - Greenwich South East London · Remedy Education are recruiting for Special needs Teacher who has extensive experience in teaching English to GCSE & low level learners. · This school is based in South East London and they're looking for so ...