1 year ago · 2 min. reading time · ~10 ·
Philosophy is necessary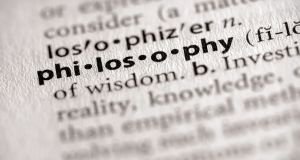 Artículo original de José Manuel López García : Necesaria Filosofía
In the book by philosopher and writer Ayn Rand entitled Philosophy: Who Needs It, many essential questions are addressed in order to understand that we are constantly philosophizing.
The fundamental thing is to think correctly and deeply. Undoubtedly, the pursuit of happiness is one of the purposes of human life. So is the development of projects and the production or realization of them, and it can be affirmed that reason is the key to existence. These vital presuppositions are also affirmed by Rand in her philosophical objectivism.
Although a part of human beings may not be interested in philosophy, in reality, they are the ones who need it most to organize their lives and live better. For as Rand writes: "philosophical training gives a man the proper intellectual posture: a proud and disciplined control of his mind." Indeed, although Rand died in 1982 in New York her words and her essays are still fully relevant in the 21st century. I would say more so than decades ago.
Clearly, emotions are necessary in existence, not everything should be subordinated to them. Reason must guide and direct human actions in a considerable way. This is also the opinion of this philosopher.
The knowledge of causes and consequences is part of the rationality of people, in all circumstances of human reality. As Rand writes, "most people can give themselves only a few primitive and superficial answers".
There is no doubt that before speaking people should know and inform themselves adequately, but this does not happen on numerous occasions. It is also true that there are many judicious and rational people.
Philosophy teaches to reason and to always seek the truth. Also to argue logically. The development of the reflective and argumentative capacity is absolutely necessary for society to function better. And all this on the basis of total respect for diversity and individual differences.
Normality is relative, since there are infinite ways of being a person. Geniuses have sometimes been described as abnormal and this is not true. Geniuses are intellectually superior to the masses who live superficially.
Society is full of prejudices or false ideas and philosophy fights against this. Human Rights are the framework of coexistence that we have given ourselves in western societies and this should never be forgotten.
Violence, aggressiveness, wars, marginalization, contempt and intolerance derive from the lack of intelligence and deep and extensive thinking, in short, from the lack of philosophical reflection.
Therefore, philosophy is increasingly needed in the teaching of the new generations all over the world. And this also applies to adults regardless of age and life circumstances. This is not incompatible with putting emotions and feelings to work in an intense and fulfilling existence. Everything from an attitude that starts from prudence to prolong as much as possible a healthy life.
Philosophy is a human or social science that delves into human psychology and also into the ethical and bioethical aspects that are so essential. With the advance of genetic engineering many questions arise that can be subject to critical discussion, by experts and also by citizens.
Respect and tolerance together with equality, freedom and justice must be the axes that move all people in all their conduct. Laws are the guarantee that individual rights must be fully respected.
Philosophy allows us to judge everything and also to analyze an infinite number of aspects of all kinds, since nothing human is alien to reflection. A life without examination does not deserve to be lived. The possibilities that life offers are innumerable and it is in the hand of each one to take advantage of those that he can or not. This depends on one's intentions and thoughts. Freedom is one of the basic principles or elements of life forms and will continue to be so.
A new digital society can be built in the coming years and decades in which a higher quality of life for all and the disappearance of poverty and exclusion can be achieved. The solution also lies in exercising a philosophical attitude that enhances goodness, knowledge and individual rationality.
You may be interested in these jobs
Found in: Talent GB± - 2 days ago

---

North Yorkshire County Council

Thirsk

Care Assistant - HC4U, Easingwold Full and Part-time hours available £10.10p/h + mileage At Holistic Care 4U people are at the centre of what we do, be they service users or our staff. · We recognise that it's the people that make a difference. We are looking for full-time Carers ...

Found in: Ziprecruiter GB Test30 - 16 hours ago

---

Job Description · Key Client Partnerships Manager · Salary: Excellent benefits (bonus, pension, healthcare, life cover etc.) · Location: London Barbican · About Key Client Partnerships · The Key Client Partnerships initiative is focused on fuelling collaboration and driving cli ...

Found in: Ziprecruiter GB Test30 - 1 day ago

---

Recruitment Solutions Workforce Ltd

Cardiff

Job Description · RSW LTD are delighted to be working with our manufacturing company based in Cardiff, in the search for a Customer Services Administrator. · The Customer Services Administrator will need to provide a comprehensive administration service to the Commercial Departme ...