Seagulls As A Metaphor For Life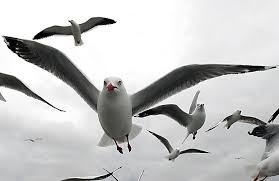 Mundane Actions Better Meditation
I have had several times, the pleasure and privilege, to buy fresh fish from the seaside. Today, as I sit listening to gentle music after a 15 minute meditation, I am reminded as I reflect, just how like seagulls the journey of life is.  Not one with great PR, like eagles, birds of paradise, hummingbirds, parrot or owl, the seagull for most, don't capture the imagination.  However, with a new found appreciation for life in recent years, I have become mindful of just how much there is to appreciate and learn, even from the seeming mundane.
At the Fishmongers
For the first time, I took notice of seagulls, as the squawked and hovered to scan the terrain, flapping, gliding, skimming the waves, and soaring close by the shore, then flying away.  I notice wings spread, then lowered, legs and claws stretched to pick a morsel, dropped by fishmongers, the grab, the flap of wings, the quick flight off, feet tucked under, having caught the prize.  The fishmongers too play a part, sometimes deliberately dosing bits towards the birds.In life too I notice how sometimes I have to glide.  I have let things take their course, even though at first, this was never something I particularly liked or enjoyed doing. Society and up bringing taught me to be doing something, to solve a problem, or move forward towards a goal, is the 'responsible, the respectful and right way' to live.  Now I know, its not always the case.  There are so many variables to things, especially things outside my direct control, gliding through is really the best at times.
Scanning the terrain, is also a point in life's journey.   These are moments I'm lost in thought, examining and considering my options.  Never one to procrastinate, I can sometimes be too hasty.  I have learnt, just like seagulls that getting the prize, needs a considered approach.  I don't mean being immobilised with multiple  confused thoughts, indecision and inaction.  I mean understanding that there is always more than one course of action, at any given time.  Selecting one but being flexible enough, to change direction, tactics or strategy, when I need to.
Dealing With It
I sometimes flap my wings, I sometimes squawk, yes, sometimes.   I think we all do.  I flap my wings not only when I'm about to begin new experiences or challenges but sometimes when I really must take a stand, against BS thrown my way, to stop me or put me down.  In these moments, I flap  so the motion of the wind blows them off.  A word, an action, to take control .  I squawk too, letting them know in no uncertain terms, my rights, my determination and my strength of character. A letter sometimes, an email, a meeting, or a confrontation.  I am never in this mode for long and I generally succeed, in avoiding these situations, by gliding and scanning my terrain well enough.
Like the fishermen tossing a morsel for the seagulls, there is also the chime of good fortune, actually more frequent than I realised.   The universe brings someone, something, events or places together, unplanned and with no doing on my part, to help me along, open a door, or provide a need or want.  Simply put, right place, right time.  Here the metaphor for the universe, is the fishmonger providing; helping the seagull, with no specific action or travail on its part.
What Doesn't Kill You Makes You Stronger
Soaring, skimming and flying away.  This is really life's over aching teaching.  A descent from a soaring height, may seem like a fall of humiliation for some, not me.   With the right attitude I have learnt in actual fact, its the opposite.  While ill and short of cash, I transitioned to managing with far, far less, without much adieu. I surprised myself. What is important in equilibrium, is inconsequential, when pressures arise.  I was happy to discover this part of me, though I suppose being in and out of hospital; ill day in and out, helps to refocus the mind!  I found this part of my life was actually mind, soul and spirit enhancing.  I found fresh impetus for life, a new direction for what I wanted to do, even though I'm no longer spring chicken. I moved back to connecting with my soul's mission, so I finally soar with the prize, having accomplished what I came to do on earth.
Then finally, I can fly off forever, to new beginnings, in love and peace.
#meditation
#leadership
#seaside
#birds
#challenges
#life
#health
#success
You may be interested in these jobs
Found in: Jooble GB - 3 days ago

---

Macildowie Associates

Bedford, Bedfordshire

Are you looking for a business where you can add genuine value? Im currently partnering exclusively with a business based in Bedford who are looking to bring in an aspirational skilled individual who can add genuine value through analysis... · Your purpose/ scope: · As a Decis ...

Found in: Talent UK - 3 days ago

---

Halfords

Bishopbriggs

Part time

Age 22+ £10.20 per hour + performance related bonus · Age 21 £9.60 per hour + performance related bonus · Under 21 £8.20 per hour + performance related bonus · This is a permanent position based in our Glasgow Bishopbriggs store. Core hours are 20 per week plus overtime. · Love a ...

Found in: Jooble GB - 3 days ago

---

Bedfordshire Hospitals NHS Foundation Trust

Bedford, Bedfordshire

Part time

We have a new and exciting opportunity, in response to the GIRFT report and gap analysis, to a recruit a forward thinking Band 7 Acute Occupational Therapy Team Leader within ITU with an outreach into stroke and respiratory. · The post holder will be integral in establishing and ...