The Hour-Glass
Youth and love and life-force stirred the sands beneath my feet;
arid, warm, enticing; such a beautiful deceit!
I wondered as I wandered at such amazing grace
and turned my face up to the sun so thankful to embrace.
I was strong and brazen then, convinced that hope could win;
stupidly conceited that this trap had sucked me in!
Now I see the construct, the circled glass entraps.
Doomed to wade in circles until I breathe my last.
Every sin and sorrow cutting deep as I am stoned; 
the rain of accusation shred my skin down to the bone.
Blood trails from my body, thickly from my head,
then disappears in mockery; my path will not turn red.
Wading sands grow heavy, my pitted legs are flayed.

Walk in ceaseless suffering? Is my life not fully played?
The will to fight has left me, even those I'd leave behind
beloved as they are, cannot save me from my mind.
Serves me right for duelling with that liar in my soul
whose name is 'Condemnation', whose eyes are black as coal.
It bleeds me drier than this sand I slog though ceaselessly.
Please take me Lord; forgive me what I battled heedlessly.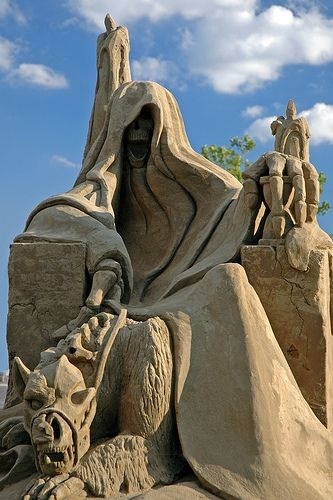 "Sands of Time". Artist: Chris Guinto
www.flickr.com/photos/graindamaged/


You may be interested in these jobs
Found in: Jooble GB - 3 days ago

---

CV Bay Ltd

Sutton Coldfield, West Midlands

Full time

Azure DevOps EngineerThis is a remote working opportunity. We are looking for a passionate Azure DevOps Engineer, who has solid groundings in running and support Azure DevOps environments. · The platform has recently been moved over to being cloud hosted, and we now need someone ...

Found in: Jooble GB - 3 days ago

---

Siamo Recruitment

Leicester

Temporary

Recycling Operatives Required in Leicester – LE4 We are looking for hard-working individuals to join our great team at Leicester based Recycling Plant. · The role involves sorting and moving recyclable materials, general yard work and cleaning duties. Its is a role that can be ...

Found in: Talent UK - 3 days ago

---

Enghouse Interactive

Reading

Full time

We're on the hunt for a high-energy, results driven Customer Success Manager to add to our rapidly growing team · Who we are: · We deliver a broad range of call center solutions designed to deliver winning customer experiences. Enghouse Interactive helps transform the call cent ...