3 years ago · 1 min. reading time · visibility 0 ·
The Hour-Glass
Youth and love and life-force stirred the sands beneath my feet;
arid, warm, enticing; such a beautiful deceit!
I wondered as I wandered at such amazing grace
and turned my face up to the sun so thankful to embrace.
I was strong and brazen then, convinced that hope could win;
stupidly conceited that this trap had sucked me in!
Now I see the construct, the circled glass entraps.
Doomed to wade in circles until I breathe my last.
Every sin and sorrow cutting deep as I am stoned; 
the rain of accusation shred my skin down to the bone.
Blood trails from my body, thickly from my head,
then disappears in mockery; my path will not turn red.
Wading sands grow heavy, my pitted legs are flayed.

Walk in ceaseless suffering? Is my life not fully played?
The will to fight has left me, even those I'd leave behind
beloved as they are, cannot save me from my mind.
Serves me right for duelling with that liar in my soul
whose name is 'Condemnation', whose eyes are black as coal.
It bleeds me drier than this sand I slog though ceaselessly.
Please take me Lord; forgive me what I battled heedlessly.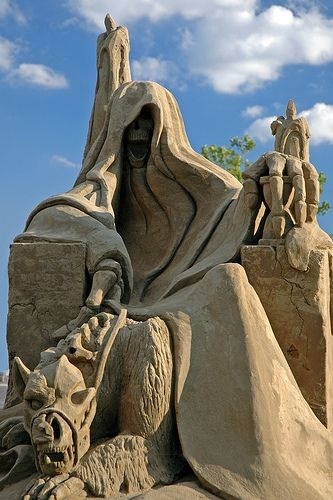 "Sands of Time". Artist: Chris Guinto
www.flickr.com/photos/graindamaged/


You have no groups that fit your search