6 years ago · 4 min. reading time · 0 ·
What have me, Madonna and spreadsheets got in common?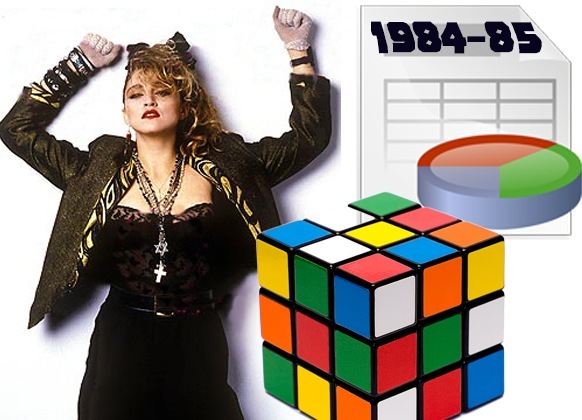 We've seen a big focus on pensions and retirement in 2016.
I'm only 49, so the time for my retirement is some way off - and Madonna doesn't show any signs of stopping either!
However, there is definitely scope for spreadsheets to find their way into Room 101!
Where spreadsheets started...
Way back in 1961, before my birth in 1967, Professor Richard Mattessich pioneered the development of spreadsheets – leading to the first commercial spreadsheet, Visicalc.  Visicalc  is credited with changing microcomputers from a hobby into a 'serious business tool'.   Spreadsheets are therefore 55 years of age……almost as old as the 57 year old pop superstar Madonna.
Surely, it's time they retired?

Where I started...
My first experience with spreadsheets in the form of Visicalc came in 1984, incidentally the year Madonna had her first early hit with 'Borderline'.
That was the  year I started work, it was typical in most SMEs to have only one computer and one person trained to operate it.  In our firm, 'she' was 'me!'
Operating a computer then wasn't easy.  You needed to learn text commands and keystroke combinations that were not at all instinctive.  Youngsters like me at the time were a valuable commodity, we picked it up easily.  The spreadsheet was a revolution – we used it for accounts, planning and stock taking as well as the  complex calculations it was built for.

Where the link before HR and spreadsheets started
The computer operator, in our case, me, often got asked by HR to use the 'new' spreadsheets to computerise the 'office wall planner' in forward thinking firms.

Most HR firms, though, still used paper holiday forms which were completed by staff and authorised by HR.  
In the newer teams, HR would forward authorised requests to the computer operator who would update the spreadsheet.  
Someone would have the nightmare job at the end of the year of combining lots of spreadsheets together and collating them into an annual report for the Finance Director.  Whilst my job has changed considerably since 1984, many HR departments still use this exact process 30 years later (though instead of a computer operator, HR have their own PC and do it themselves!)
The old perception of HR
In these dark days, HR was seen as a low priority, 'nice to have' function compared to production and sales, and thus ignored by the accountants who drive business change.  
Where an HR Manager existed, their role was mainly admin based and despite learning valuable management skills, they were not called upon until problems arose with individual staff members.  It's sad to think that there was a time when their role was so trivialised, as HR people (or personnel, as they were then called) have always been highly skilled, and in touch with people across the business.
HR quietly solved problems before they arose, having a quiet word before drama arose, finding the right people and helping to develop skills in talent they had spotted - it's just that the rest of the business didn't value those skills, and often only sought HR advice when everything else had failed.
The Growth of HR
After the 90's and noughties, management consultants have got round to analysing every business function in a bid to find new savings and find new channels for business.
Guess what – it turns out that HR is not 'nice to have', people are now regarded as a business' most valuable asset.  HR Managers are now given the respect they deserve, and in many businesses someone from the HR team sits on the board.
However, along with the overdue recognition comes a spotlight which is asking HR to deliver costs and efficiency to maintain a competitive advantage in a modern world.
The changing place of work
Workplaces, too are evolving.  Businesses now operate globally.  Workers are remote, in different time zones and subject to global legislation differences. 
Spreadsheets are woefully unable to cope
Just as finance abandoned spreadsheets in favour of accounting packages in the late 80s and 90s, HR is now finding that spreadsheets cannot manage the demands of a new, skilled HR team.  In many cases they are a barrier to the growth of HR analysis.

The new alternatives
HR's time in the shadows has done the profession a favour.  Skipping through a few decades with spreadsheets means that HR has often not invested in cumbersome old desktop solutions, which means they are ripe for making almost overnight savings with the new generation of cloud based HR solutions which are cheaper and easier to implement than ever before.  
The growth of social media has pioneered staff to develop new skills, making the new software intuitive to use.
The new tools are embraced by users who use laptops, smart phones and tablets already and enable a whole new level of analysis.  Operating via a web browser,  they are accessible anywhere and give an overall picture, even across global organisations.  Remote workers?  No problem!  Global workforce? Easy!
Time to save, and time for HR to shine
Online solutions are growing at two to three times the pace of on-premises solutions and recent Deloitte  research shows that 84% of UK businesses are seeking to change the way they handle HR functions.  That is because they achieve cost savings and efficiency very quickly, with added benefits:
(a)   your data is held securely off site
(b)   it's usually future proof because software updates and technical support are almost always included in the fee
(c)   It's very scalable and flexible, and will work equally if you have one or thousands of users.
(d)   cost savings are usually achieved in year one
Whilst I'd always bet on an HR person's decisions, (they are blessed with an uncanny gut instinct!) t
he beauty of the new technology is that, for the first time, HR can easily make smart decisions based on data.  This completely removes the guesswork out of managing people.  The term 'big data' should mean 'big HR' - because they are becoming the most important person on the payroll.
Cloud based HR Software is booming
The Activ People cloud based HR system was first developed about 10 years ago but over the last few years demand has spiralled.  Commercial Director Adrian Lewis explains why the cloud based model best serves HR:

"It works well for IT because there is no reason for HR to reject it!  HR saves time and money from year one.  The cost of absence alone is often reduced by 20-30%, but we also have clients using our online staff handbook saving over £2k per month on printing costs alone.  Staff love the openness of the system and HR like the extra information.  It's a win/win for everyone!"
The rapid growth that developers are witnessing is taking place on the same scale where we went from one pc in an office to one on every desk - and there is no sign of slowing.  HR spreadsheets, it seems, are being put out to pasture.  They've served their time and earned a rest!
Madonna on the other hand continues to amaze - I'm superbly envious of her figure, so I hope she is still showing us how to rock when I retire!

I wonder where HR will be when I get to draw my pension?
"
You may be interested in these jobs
Found in: Jooble GB - 6 days ago

---

Univar Solutions

Bradford

Duties We have an opportunity for a Credit Controller to join our Credit Control team based in Bradford. You will be responsible for the day-to-day collection of cash to achieve the teams KPI's on debtor days and cash targets while being compliant to all company procedures and l ...

Found in: Ziprecruiter GB Test30 - 5 days ago

---

Kemp Recruitment Ltd

Dorking

Job Description · Welder / Fabricator · Contract Type: · Full Time / Permanent · Area - Dorking · Annual Earnings: · £30,000 - £32,000 · Contract Hours: · Early and Late Shift Rotating - 5.45am - 1.45pm & 2.15pm - 10.15pm · My client, a specialist in the repair and Fabricating o ...

Found in: Adzuna GB Premium - 6 days ago

---

Trinity College London

Leicester

Examinations Registrar · Contract: · Permanent, part-time (2 days a week, weekend only) · Location: · Birmingham/Leicester · Closing date: 1 December 2022 · Trinity College London is an international exam board, with a rich cultural heritage and a positive, supportive approach to ...