What is the Action Gap in CX?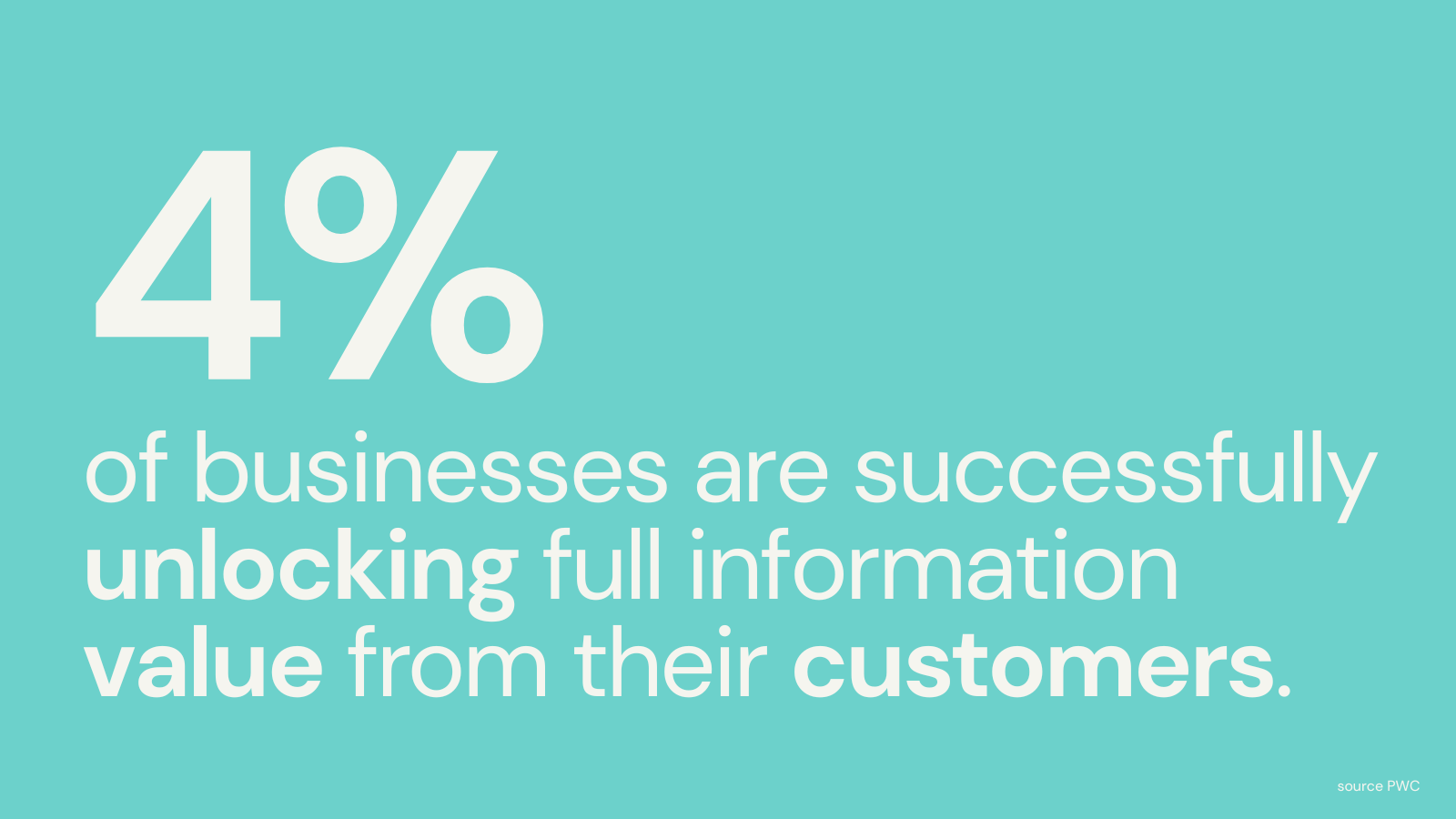 There is a CX challenge that affects 96% of businesses globally. 
This challenge is called the Action Gap.
Companies are failing to connect the dots between collecting customer feedback, analyzing feedback, and taking intelligent action that simultaneously closes the feedback loop and improves customer experience. 
The Action Gap is the space between customer insights and making actionable decisions. As we've said before, there is no action without learning and no learning without action.
But it's not all bad news. 
Quite frankly, many businesses are doing a pretty good job collecting and organizing vast amounts of customer feedback data. But extracting full value from this information - and turning insights into action - is another story altogether.

Let's look at the facts:
An extensive study by PwC discovered that only 4% of businesses are successfully unlocking full information value to get closer to customers, building loyalty, and improving products and processes.
Two-thirds of businesses cannot extract full value from their information, and a quarter of these companies derive no benefit whatsoever. The rest? They simply lack the tools and skills to do anything - paralyzed with information.
Essentially, businesses are either not equipped to capture customer insights or unable to manage customer information effectively as it travels through the organization. Even with the best intentions, most detailed customer surveys, and the coolest of dashboards - things ultimately fall into the Action Gap.
We know that customer experience management solutions currently on the market are not designed to address the Action Gap. Listening to and understanding customers are well-addressed parts of the CX process - the real opportunity is to act upon customer feedback and turn intelligent insights into intelligent action. 
But first, companies need to rethink their customer experience strategy by:
Shifting the focus toward ACTION
Moving from CX Management to CUSTOMER ACTION MANAGEMENT
Are you one of the 96% of companies who are unable to gain full value from customer information - or one of the 4% who can? 
A full version of this article is available to read on zenloop.com/blog
Business
You may be interested in these jobs
---

Jobleads-UK

Truro, United Kingdom

We have been made aware of a global phishing campaign where employees from companies are being impersonated. We are confident that no PageGroup system has been breached. Find out how to protect yourse ...

---

Educational Diversity

Blackpool, United Kingdom

Part time

Would you like to make a difference to the lives of young people?Are you keen to work with a team who are dedicated to young people with challenging backgrounds? Educational Diversity wishes to appoin ...

---

Randstad Construction and Property

Leeds, United Kingdom

Permanent, Full time

Job Title: · Maintenance Electrician · Location: · West Yorkshire · Salary: · £37,000 · Working Hours: 45 hours per week (typically Monday - Friday 8.30 - 17.00) · Are you a time served Maintenance El ...