5 years ago · 3 min. reading time · 0 ·
In the praise of slow...or not as the case may be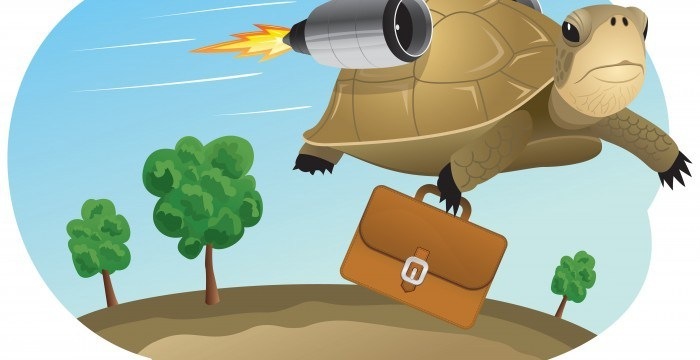 In the last 150 years, however, the human relationship with time has radically changed. Some say the problems started earlier, with the development of agriculture or writing, but it was really the Industrial Revolution and the rise of the Machine that put humans in thrall to mechanical processes and machine time. And the recent exponential speeding up into Cybertime has accelerated the process still further. Industrial time was bad enough but Cybertime is changing the force of game play.
And that's how many modern people feel completely frazzled and out of synch with our deepest selves.
The results of this disconnection from nature and nature's pace show up in therapists' and doctors' offices every day. Living under unnatural time pressures causes a myriad of psychological, social and physical ailments. Delinked from the natural rhythms of our bodies and the rest of the planet, we struggle with diminishing success to adapt to the strange mechanical and disembodied world we have created.
It all underscores a vital point: While our world has always experienced change, the rate of change is speeding up. Many historians, sociologists and journalists have expressed concern in recent years about the rapid change in our society. They tell us that today's world is changing at an accelerated rate, unlike anything past generations witnessed.
Do you feel bombarded with change from every direction? Do you feel stressed, overworked, with too little time to appreciate and enjoy life? Do you find it difficult to keep up with everything you need to do? If so, you're not alone. Our rapidly changing world is rapidly stressing us out. What can you do to cope?
One of my favourite books on the subject is called In Praise of Slowness, by Carl Honoré. Tthe book dissects our speed-obsessed society and celebrates those who have gotten in touch with their "inner tortoise." Honore's bestselling book plots the lineage of our speed-obsessed society; while it recognises the difficulty of slowing down, it also highlights the successes of everyday people around the world who have found ways of doing it. A must read for people who can make the time!
The Slow Movement aims to address the issue of 'time poverty' through making connections. If we think about the following trends. Buddhism is the fastest growing religion in the world today. People are turning to organic food in droves. Schools are in turmoil.
How slow can you go? Home schooling is becoming commonplace. People are downshifting.
Stress is leading to unprecedented health problems. "Stop the world, I want to get off" is a feeling we all have sometimes.
Why is this happening? What is wrong? What are we searching for? The one thing that is common to all these trends is connection. We are searching for connection. We want connection to business, our people – ourselves, our family, our community, our friends, – to food, to home, and to life. We want connection to all that it means to live – we want to live a connected life.
This desire for connectedness is not new. Traditionally, in times past, our lives were connected. Most traditional cultures still have these connections. Cultures with connection, these people are connected to their culture, to people, to home and to their lives.
Our fast paced life has weakened these connections. Technological advances have meant that the work we do is different from work in the past and it is less connected to living and life than it has been in the past.
Technological advances have resulted in labour saving devices for the home. Who would complain about vacuum cleaners, electric stoves, hot water systems, flush toilet, or the bread maker, but have these technologies really given us more time to enjoy life as was their claim? Or have we used this time to become even more busy. We are engaged in constant fast-forward motion whereby we are often overscheduled, stressed and rushing towards the next task. This rushing is not restricted to our work environment. We rush our food, our family time and even our relationships, not to mention recreation.
In summary, the ideal balance is to be moderately motivated to work towards your goals but not so much as to breed workaholism, moderately positive when we look back on our lives, we have a generally positive outlook, and that we take time out for friends, family and fun.
The problem occurs when we support an over-reliance on technology, to constantly checking email and social networks, and being distracted by alerts on our mobile devices, this can take us out of both the past and the future, and into a state of heightened compulsion in which we are constantly focused on what is either right in front of us or coming immediately afterwards.
With technology we are simply being in that moment to take the next action. It is really minimising the quality of our life. It is minimising the joy that we should to be getting from everyday life.
Neil Postman once said:
"I don't think any of us can do much about the rapid growth of new technology. A new technology helps to fuel the economy, and any discussion of slowing its growth has to take account of economic consequences. However, it is possible for us to learn how to control our own uses of technology."
"
You may be interested in these jobs
Found in: Jooble GB - 22 hours ago

---

AK Teaching

Durham, County Durham

Primary Teacher KS2 Consett - DurhamEducationREF : 351703DURHAMSalary : · Competitive Published : · 13/09/2022 00:00 JOB DESCRIPTION · SAT's experience essential · Working in an exciting and developing Key Stage 2 department. · AK Teaching are currently working closely with a P ...

Found in: Talent GB Sponsored - 1 week ago

---

Harvey Beric Associates Ltd

Burton upon Trent

Our client is a highly successful and dynamic online media company. They are looking for a driven individual to join their team as an Account Executive to respond to incoming sales leads and enquiries. · This is a demanding and fast-paced working environment, perfect for someone ...

Found in: Jooble GB - 22 hours ago

---

nDreams Limited

Farnborough, Hampshire

Full-time

We are nDreams, one of the world's leading developers and publishers focused on VR games. Combining innovation with excellence, we are the team behind award winning game Phantom: Covert Ops and Fracked. Our AAA experience and sensibilities, alongside bespoke VR technologies, giv ...