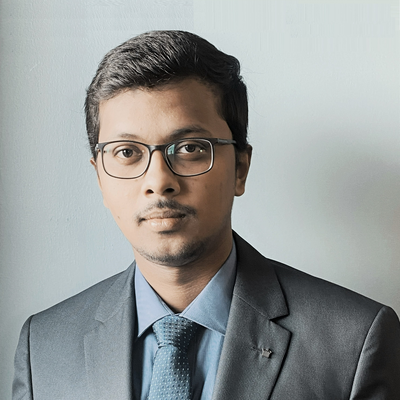 About Manikrishna Tadepalli:
Highly motivated and results-driven Consultant and Chartered Manager with a distinguished MBA background, boasting a successful track record of over 6 years in consistently delivering exceptional outcomes. Proficient in managing diverse datasets, conducting comprehensive business metric analyses, and adeptly producing and presenting complex business reports.

My unwavering commitment to excellence has translated into substantial cost-savings for esteemed clients through the implementation of innovative strategies, securing new contracts, and optimizing project timelines.

Throughout my career, I have demonstrated a keen ability to cultivate and maintain robust relationships with stakeholders, clients, and colleagues at all organizational levels. My exceptional stakeholder management skills have enabled me to navigate intricate business environments with finesse, ensuring seamless project execution and surpassing client expectations.

As a forward-thinking professional, I have played a pivotal role in supervising multiple high-impact projects, consistently fostering effective communication and fostering a collaborative work environment. My sharp analytical mindset and adept problem-solving abilities empower me to tackle complex challenges head-on, delivering effective solutions while adhering to project objectives and timelines
Experience
Analysing & investigating the business case evidence to estimate the viability of resource investment for repair generation. Steered management of business & technical support requirements for the client, Rolls-Royce, in reducing the time & cost of services. Facilitated the achievement of set timeframes in adherence to service level agreements (SLAs) by partnering with five stakeholders.

● Acted as an interface team leader between the RR team and MROs for the implementation of aftermarket services

● Recommended top drivers/demands to the client by analyzing monthly/yearly fleet reliability reports and operational data trends for engine components to maintain a smooth flow of the supply chain.
● Executed end-to-end operations including but not limited to identification of possible procedure breach by Maintenance Repair and Overhaul (MRO) centers through leadership of five-member team and provided proactive solutions. 

● Negotiated and achieved SoW valued at $500K across a highly complex environment by fostering strong client relationships. 

● Spearheaded for a reduction in associate working time by 60% through development of robust framework to monitor project status on airline commercial venture. 

● Prepared Statement of Work (SoW) for project proposals and maintained up-date project reports by being a focal Achieving Competitive Excellence (ACE) member for team. 

● Designed and developed robust standard operating procedures to protect client IP and achieved 90% reduction in IP outflow. 

● Drove USD 100K ($) cost savings for client by eliminating SoW through Value Stream Mapping (VSM) 

● Recommended top drivers/demands to the client by analyzing monthly/yearly fleet reliability reports and operational data trends for engine components to maintain logistics and supply chain. 

● Developed detailed distressed component repairs in compliance with air-worthy standards by analyzing minimum available data. 

● Nominated & chooses as Innovation Champion, Safety Champion & Sports Co-Ordinator, to enhance collaboration among teams.
Education
Master of Business Administration (MBA)
Bachelor of Technology (Mechanical Engineer)
Professionals who compete with Manikrishna
Professionals in the same Upper Management / Consulting sector as Manikrishna Tadepalli
Professionals from different sectors near London, Greater London
Jobs near London, Greater London
---

Randstad

Horley, Surrey, United Kingdom

Higher Level Teaching Assistant (HLTA) / Emotional Literacy Support Assistant (ELSA) - Yatterdon, Surrey Unlock the potential of our students and be the guiding light on their path to success as an i ...

---

SELWOOD LTD

Bracknell, United Kingdom

Our Business · Selwood is the leading pump rental solutions company in the UK. We have an outstanding reputation for exceptional customer service backed by one of the largest fleets of quality pump p ...

---

NHS

London, United Kingdom

Full time

Job summary · This is a fixed term role that covers both Evelina London Children's Hospital and Kings College London. The postholder will be leading on clinical pharmacy services for paediatric patie ...