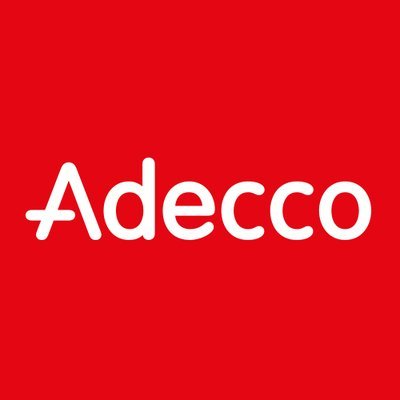 Adecco in United Kingdom
Human Resources
4521 jobs at Adecco in United Kingdom
At Adecco, we're driven by a powerful purpose – making the future work for everyone – and we are fully committed to the job seekers, businesses and communities we serve. We recognise that people are the most valuable asset in the workforce, and we want to empower you to enhance your career in the immediate future and beyond.

As the world's largest provider of staffing solutions with more than 50 years of experience, Adecco has the resources to help you be successful. We want you to love what you do. Trust us to match you with opportunities that best suit your life, skills and career goals.

Making the future work for everyone means we are dedicated to addressing the skills gap through work-related programs, partnerships and investments that create greater economic opportunities for our clients and employees.
We are deeply saddened by the passing of Her Majesty Elizabeth II, and wish to convey our deepest condolences to the Royal Family. As the longest serving monarch in British history, the Queen has touched the lives of so many during her 70-year reign, and we thank her for her unwavering dedication to public service.
A job is never just a job. It's part of who we are, where we connect, build meaning and find our place in the world. At Adecco, we understand that a business is a product of its people. We're perfectly placed to connect every business with the people that define it, to help our nation thrive and make the future work for everyone.

We have a wide range of job opportunities across the country suitable to all experience and skill levels. So, what are you waiting for? Find it today and get to work!
As part of our drive to help young people, Adecco's "CEO for One Month" initiative offers you the chance to develop and showcase your leadership potential, to learn what it takes to succeed as a business leader and to acquire the skills and the experience needed to get your foot on the career ladder.

We want to provide you with work experience that will really help kick-start your career and ensure that your professional ambitions come true. With over 30,000 employees and offices in 60 countries, Adecco services help people fulfil their potential, building employability and connecting people with opportunities and we want to share that expertise with you.

The selected global CEO for One Month will get a taste of how to run a multinational company. The highly qualifying experience is a huge boost to any career! "CEO for One Month" runs in more than 40 countries, where the first step will be for candidates to apply to become CEO for One Month in their country of residence, before making it to a shortlist of 10 top performers. Of the final 10 candidates, one will be chosen to become global CEO for One Month.

Are you a fast and eager learner who is not intimidated by complex problems? Are you a strong communicator who is resilient and driven even when things get tough? Are you a team player with a passion for people? Then seize this opportunity and apply now for the work experience of a lifetime!

The Innovation Foundation helps underserved populations increase their employability and access to labour markets to secure sustainable livelihoods. That is our mission. We see a future where everyone can access the world of work. That is our vision. Our mission and vision both come to life through the process of the Social Innovation Lab, with which we operate.

The first step is to identify the people who are falling out of the workforce and their unmet needs. We then develop solutions to meet those needs, working with experts and end-users. Finally, our prototypes are taken out into the world with the right partners on the ground - helping to make a world where everyone can access sustainable and fulfilling work.

As the world's leading talent advisory and solutions company, creating social value is in the DNA of the Adecco Group. We connect people and companies with opportunity and help them find their paths. But we also have a wider responsibility to society – to advocate and act for a better, fairer world of work. We do this through the Innovation Foundation, with the full support of the Group's leadership.