5 years ago · 5 min. reading time · 0 ·
The Letter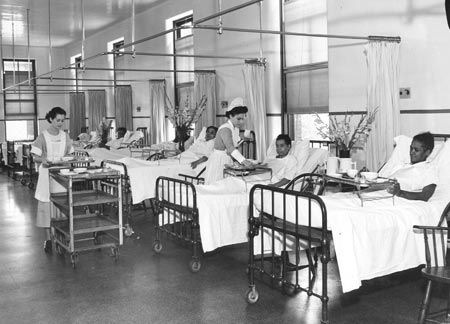 Circa 1955, MI.
''Dear Mama
….can't sleep. I know you can't be here and at 17 years old I should be stronger like you. Yes I am a bit worried about the operation in a couple of days, but it's not that really.
Something happened that scared me real bad – I'm not sure that telling you would be the right thing as I am frightened for you too now. But truth is I am in terror that I will not be coming home, but will die in here. So in case I do, you'll know why.
Yesterday morning they moved me to the colored woman's Ward. It's a huge room, so big I can hardly see the women at the wall on the other side! There's a Nurses Station outside the room beyond the wall opposite – so very far, I couldn't make them out without my glasses! And every bed has its own light! There are maybe 30 or so of us there – all a lot older than me. The lady on the left of me is very old and seems to be always asleep. The lady on my right is not much older than you. She told me she was 51, so a few years older, but she talked to me. I promise I wasn't a nuisance, she could see that I was afraid and wanted to put my mind to rest I think. God bless her! You could tell she was in a bad way with pain, yet she tried to cover it from me, but you could tell. Like Grandma was – it reminded me so. I kept calling her Ma'am like you told me, but she insisted I call her Missy, even though I don't know if that was her name or close enough to Ma'am to be respectful. Truly Mama, I asked her about herself as you done taught me, but she waved that away with her thin hand. She just seemed to want to talk about me. I'd been worried that they moved me because they thought me 'feeble-minded', but she said that they move people all the time. She was very reassuring and it turns out that Missy has been there for over a month! That's pretty much the sum of what I knew about her, as she was so nice as to want to talk to lil' me! I sure hope I'm not here that long. I made sure I didn't outstay my welcome, Mama. I could see she was real tired and did not look at all well. When her pain got worse, they gave her a shot of something that helped her sleep. I kept out of the way, of course, but was grateful for the time she took to assure me. She said she had a daughter like me, so maybe that was why. That was kind, her sharing a little with me and looking out for me especially. She was real loving, and I know you'd be happy to hear that, and I keep her in my prayers.
Later when night came, all the lights were turned off except for the Nurses Station. It was quiet. Except for the normal noises of people sleeping and others dreaming.
But I could not sleep for thinking about the next day. I must've dozed awhile, until Missy woke me – her breathing was not right, it was loud and harsh and surely causing her labor. Many hours had passed since the lights went off. I got up,  concerned as I was. I went to her bedside to hold her hand. 'Missy' I say. 'Are you in pain, Missy?' She doesn't answer me, like she can't. She tries to move her hand as if to say something but she's too weak. Her breathing has taken on a noise of its own, like she struggles for breathe. I so want to do something but I don't know what. 'I be alright..don't fret now child' she says between gasps. 'Go to sleep..' Those were the last words I heard her say.
I try to sleep awhile, which I must have as I awoke fully to some sort of commotion at the Nurses Station. Peaking sideways I could just make out a Nurse and a White Doctor in a disagreeable discussion of some sorts. He seemed angry but I guess he's the boss, and came into the ward with a squeaking wheeled curtain. Praise God, I thought. Some help for my neighbor! I knew this because he came straight toward my side. I pretended to be asleep as he set up the curtain around Missy and turned her light on. The Nurse had followed him with a cart full of stuff and I could hear her heels as she walked away, dismissed by a quiet but angry 'Go!' from the Doctor. There was a moan from Missy and, God forgive me, I wanted to see! So I got up and hid behind the table where I could see through the end of the curtain. The Doctor was sitting on her bed almost face to face with Missy, looking at her eye with something in his hand. He sat up so quick I startled – I cupped my mouth to stop myself, but I'm sure a made a sound - and he looked straight at me! I all but died of fright, so sure was I that he stared into my soul with such fire it seemed likely to burn me, but a second or two later it was as if he hadn't seem me at all (later I reckon I was in the dark, as his light was bright). Just for those seconds, it seemed like I had seen at the devil himself, something dead and foul anyway, and he had the strangest look like he had just found something precious – a smile showing yellow teeth, although he was not old. He got up and started to fiddle with some things on the cart and I could see he was tall and thin, his face was like a hawks from the side. His coat was not too clean and he smelt, but not of anything good, I swear Mama. I prayed hard Mama, to calm my heart that was pounding so hard!
But I couldn't look away, even though I know I should. Lord forgive me, I should. Missy's breathing was a bit loader now and even though I was truly terror-struck of the Doctor, I tried to stop my foolish thoughts – surely he would help her? He's slung a strap over his shoulder and then lifted Missy up and put it round her chest like a belt. Missy clearly didn't like being disturbed as she groaned so and tried to push him away. He kept hushing her and whispering things like 'it's alright' and such. Then he came round my side with big bundles like pillows. I ducked back, almost hitting my own bed! But when I crept back, he'd propped up poor Missy, who clearly didn't like it, Her eyes were squeezed tight and furrows of pain lined her face. The Doctor had finished whatever he was doing and plugged everything into a machine on his cart. Next to it was some other contraption, I don't know what, but he wheeled it close so it was sort of over her. Then he did something that made me almost cry out – I had to hold my breath – he got on the bed and put one leg each side of the poor lady. I thought to go get someone, but another part of me is maybe this is what Doctors do so I just stayed there instead. Forgive me Lord.
All this fussing roused Missy somewhat, but he hushed her more and more and she calmed. Maybe he gave he something for the pain…I didn't see it. Then he did something truly bad, I think. He opened each of her eyes and taped them open! All I could see was a little shine of her eyes, didn't look like she was 'seeing' anything – she didn't move them around like I would have! But I was truly terrified now, as he moved that other machine right to her face and then he put his face to some eyepiece, so that their faces were inches apart. Missy was struggling, but feebly, so he stopped to cover her mouth gently – not hard, whispering in her ear, until she quietened down, and he went back to the eyepiece. Suddenly a flash of light like a camera came from the eye machine, and the other machine started whirling too. This happened many times, only interrupted by him putting drops of water in Missy's eyes. She started at the first couple, then just put up with it, I guess after.
I don't know what he was doing, but after a couple of hours, as Missy was quiet now, I went back to bed. I was beside myself with what I had seen so I didn't sleep much. It seemed hours before he finally left, and then I slept.
The next morning, Missy was gone, her bed empty and made. The day Nurse told me she'd passed in the night. I couldn't help but cry for I was sure this man had killed her while I watched. But for shame I didn't say anything ever, Lord forgive me, all I could think of maybe he'd come back for me like that.''
"
You may be interested in these jobs
Found in: Jooble GB - 2 days ago

---

IMmagIN Recruitment Ltd

Dunfermline, Fife

Full-time

Working in the role of a Disability Assessor, you will have the opportunity of a flexible working week, where you can now choose your working hours and have the opportunity to manage your own time and diary. The role offers you the opportunity to work either Full or Part time fle ...

Found in: beBee S2 UK - 5 days ago

---

Varsity Tutors

Hove

Full time

Hove GCSE History Tutor Jobs · The Varsity Tutors platform has thousands of students looking for online GCSE History tutors nationally and in Hove. As a tutor who uses the Varsity Tutors platform, you can earn good money, choose your own hours, and truly make a difference in the ...

Found in: beBee S2 UK - 2 days ago

---

DiverseJobsMatter

England

Full time

Job Description · The Role: · Working at the company will provide an exciting opportunity for any high performing Project Manager (PM) to work in a busy, diverse and challenging environment. Working in the Capital Delivery Team, our core function and focus is to deliver the Capit ...