This Paradise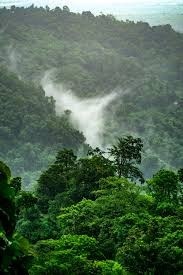 I wake up to the songs of a multitude of birds, see spiraling dragon flies and countless insects fluttering up in the rain, like real life fairies. The garden is a children's delight of exploration and the view of mist raising over the hilly rainforest, in the cool breeze of dawn, is eerily soothing. Where could I possibly be?
Being in this place I am reminded of how life is what you make of it, how what you choose to see and respond to, determines your quality of life. Meditation practice, has led me a long way from walking the earth in a semi – comatose state, bereft of the many wonderful things of nature. Too preoccupied with the daily slog of the rat race, called modern living. Now I see butterflies in a multitude of colours, - white, yellow, brown with purple patches, small and large. I catch a glimpse of a moth against the shade of the roof of the bungalow, still, with wings spread horizontal, remembering my biology, from many years gone by. I notice the birds that sing all day long, on trees and electric poles. Different sizes and colour combinations, gliding by in different formations. One in particular catches my attention, it's metallic turquoise, so beautiful it looks unreal. Then, I suppose this is the consequence of social media and television; the natural colour of a bird, seems unreal. I am mindful enough of the singing birds that when I hear a new one, I instantly recognize I haven't heard it before.
In this place, everywhere pulsates with life. A frog, so well camouflaged I don't see it, till moves, despite starring hard to 'catch it out'. Not everything is to my personal liking though. The abundance that characterizes this land, means there are also numerous small reptiles, scurrying around. They hasten off, at the sound of my footsteps, appreciated all the same. Everything here is lush and green, evergreen, deep green trees, hedges, even unsolicited sprouts of grass and bush. Against the wonderful moving scenery of colour and shapes, is the bright, bright sun beaming down on literally everything, like a stage light in a theatre. The rays bring a sense of well- being, relaxing the mind, while bearing down heavy, so you begin to sweat.
Here, in the quite of this architectural nicety, of an upscale estate with the high walls of a 'gated community' I understand that truly, there is a creative being/ force behind what I see. Even the fine netting on windows to keep out the less desirable insects, is a reminder of the spectacular variety, this paradise offers. Unlike my hyper sanitized world of UK, where all I see are pruned and leashed dogs, on the way to a park of pigeons, or the occasional raven, life is wild and full of things to be discovered.
Of course nowhere is perfection. The hustle and bustle outside this confined spot of Eden, is stressful, hectic and chaotic but even then, if you choose to see and hear, you find the same beauty.
The abundance extends to the rain, it's a deluge. Thunder storms and crackling of lightening, the pounding of the rain on roof tops, providing a natural sleep rhythm, irresistible even during the day. You forget the accompanying reports of floods, on rare occasions, leading to loss of life.
Before I come out of my reverie, I travel to a city, about 110 km away, to more sounds of singing birds and floating butterflies but this time with the advantage of a view. I catch sight of the birds, inducing a curiosity that leads to the decision, it's time to take up a hobby in bird watching. I look out of the window and see young men wading through the shallow water of wetlands, of the empty lots, catching fish in buckets. Once I see a monitor lizard walking majestically along the wall, as it moves its heavy muscular tail, slow and purposefully, its forked tongue lashing out at nothing in particular. The whole place looks like the hard work of an extremely talented landscape gardener. Pools of water, tufts of green grass, an island of green, water lilies leaves, sprouting white flowers, while around are wild flowers of yellow and purple. I comment to a friend and we are thinking the same thing.
In the evening walking past here, the plonk of something in the water, fluorescent insects, in addition to birds, crickets and other nocturnal sounds.  Like a maestro conducting a symphony to perfection, enlivens the spirit. The sky is unperturbed by artificial lightening, a deep midnight blue, the stars spangle the night; the crescent moon glowing and calming. Lovely.
I'm awake now but you'll never guess where I went on this day dream………it's 2 cities in Western Nigeria. Yes, that same Nigeria. Life is truly what you see of it, make of it.
#Nigeria
#holiday
# beauty # paradise
#meditation
#rainforest
You may be interested in these jobs
Found in: Talent UK - 3 days ago

---

EPSN Workforce

Havant

Permanent

Our Client is a highly respected hospital with a great local reputation for the highest standards of care. The consultants are from a vast range of clinical disciplines and offer an exceptional service to patients. The hospital has one operating theatre, where a range of surgical ...

Found in: Jooble GB - 3 days ago

---

Salford Royal NHS Foundation Trust

Heywood, Greater Manchester

Part time

We are a small Community Paediatric Physiotherapy Team based at Callaghan House in Heywood. We see children from 0 – 19 years with acute, chronic and long term conditions. We provide a musculoskeletal service in clinics, as well as visiting children with developmental delay or di ...

Found in: Jooble GB - 3 days ago

---

Cast UK Ltd

Birmingham

Full time

Passenger Service Manager, Birmingham, £30,400 per Annum. BenefitsDo you want to join a business whose main focus is to give back to the community?The client that we are working with are looking for a fantastic leader who can lead the Transport Team and really make a difference i ...