5 years ago · 6 min. reading time · 0 ·
White Power: UK Racism in 'Aid' to Africa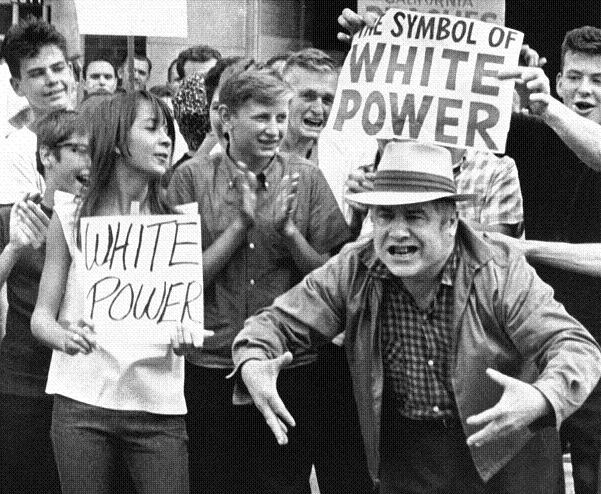 This is the 2nd part of my article on the danger of Western international development agenda to Africa.   I frequently wonder why, as a British person of Yoruba origin, living & working in the UK, people from the African continent/diaspora don't see through the international agenda and understand it, for what it is. I narrate my personal experiences of international development
industry
, to highlight the stupidity, of believing the West, is providing aid, or that they are capable of anything, other than, at the very least bias but more frequently pure racism. In the 1st instalment of the
article
I presented the methodology of breeding an inferiority complex in Africans. This is linked to the ability of the West to "tell them what to do" and as I'll show in the next instalment, steer the economy of the continent, to their advantage. They do this by a mixture of bullying, violence, threats, cajoling & flattery. I start with a couple of experience outside international development, focused entirely my consulting experiences, working on regeneration & enterprise support projects in UK. I stress these instances, are those for which
I had won, or my clients had been awarded grants/ match funding, for my services
, not those for which the outcome had been unsuccessful. 
In around 2002, I prepared an application for a government funded programme, on behalf of a community organization; value of £14,000 which was won. I was based in Birmingham at the time. The organization having been informed, were simultaneously told they are being compelled to work with another consultant; a Caucasoid. They neither had the right nor authority to terminate my engagement but they did so anyway. Suffice to say I was infuriated but what annoyed me more, was that this organization & their Caribbean "born again" CEO, succumbed. It goes back to my 1stinstalment of this article. Neither was this the only time. 6 applications I had successfully secured of £2, 500 (total £15,000) each for African & Caribbean businesses, were declined on non - existent basis, by Economic Development Department.  An officer simply rang round & said they would not be awarded the funding because they didn't qualify (which they did) or that another consultant, Caucasoid, should provide the service, if awarded.  Only one of the 6 resisted this bullying & discrimination, it still wasn't awarded. The same thing happened at #DigbethTrust, several contracts secured for community organizations, among which I remember clearly one for £3000 & another for £7000, was redirected to Whites. The organization applying for & receiving £7000 contract I secured, had significant experience of the institutional racism, embedded in Birmingham 'charity sector,' refused to accept the change, then informed me accordingly.  As a consequence, the grant was not awarded. 
Business Link did similar with European Regional Development Fund (ERDF) projects both in Birmingham & London.  In London 6 applications for match funding totalling £30,000 (2006) submitted & assessed in January, was held back till April, when I was informed funding was no longer available, due to the new financial year.  This despite following up several times prior.  In the end, after strong complaints, a manager approved just 3 of those 6. I could go on with a litany of examples, on this deliberate, overt, redirecting of contracts, to Caucasoids, without fear of reprimand, in the 'charity' & public -sector.  Of course I complained and of course, there was denial & reinterpretation of the rules but overwhelming silence.  In effect, I lost tens of thousands of £s & wasted considerable time, formally complaining, to no avail.  Some of it, of course is jealousy, a negroid!!! woman, earning this kind of money & performing better than caucasoids!!!!. Not to be tolerated. She should be working at a call centre, in line with her racial limitations, I imagine is the rationale.
I omit the cases where I was denied contracts for which I qualified, one of a value of £20,000. In this instance, on requesting feedback, no fault could be identified. However, after pressing, unable to justify my exclusion, was told I was 6th to the 5 successful.  Understanding how things work in these circumstances, I knew I was probably best. I state this on the basis recent European Social Fund (ESF) research, evidences those with foreign looking names, in UK, are simply eliminated from competitive bids & jobs, in most cases. 
Now to international development.  Perhaps, I'm naïve; more likely it's the great PR they do but I thought I may experience better.  I mean, why go all the way to 'Africa', to help, out of the kind generousity of your heart, while being visibly racist & excluding of the British Africans in your midst? I know humans are illogical but doesn't charity begin at home?  Well no, racism in international aid, in UK, is rife & clearly visible.  Visit a few sites of international development contractors, consultancies & @DFID (Department for International Development) awarded contracts & there's not an African in sight. There are statements of equality policy but not of equality practice. I remember after a seminar in 2011/12, I approached a DFID manager about how to access contracts & was promptly told it was unlikely I would get any, since I didn't already have international development experience (I did have international experience). He suggested I try to get subcontracts from corporationsdelivering aid contracts instead.
So started the gruelling journey of contacting individual senior managers, not just sending my CV.  The first breakthrough came with @Atos and a O'D whom thumped his fits on the table, trying to assert I did not have the experience I stated on my CV. He mocked, I was only capable, of quote "wishy washy qualitative stuff" in reference to my research skills, then boasted of Atos reducing hospital waiting times in Nigeria. By the way, what Nigeria actually needs is more hospitals, not spending £millions hiring racists European corporations, to state the obvious.  In the end, he promised he would be in touch with some consultancy work, for which I was suited. Despite many follow – ups, I'm still waiting, 4 years later.  This person is now with another global consultancy @EY, probably spewing his malice, on unsuspecting Africans, ostensibly under the guise, of delivering development contracts.  It was the same @PWC and a PG whom I sent my CV & tried unsuccessfully to arrange a meeting many times, even though they had advertised, when I initially made contact.  Next was @Accenture and a female, whose name I can't readily find, whom told me to call her back the following day, only to refuse to take my call.  
About a year after my initial DFID contact, I was at a seminar, where a White lady stood up and explained how she had won a contract from DFID the previous year, after just starting her consultancy, though her previous work was in an entirely different field. Immediate flashback to the DFID manager who sent me on a fool's errand. This is how racism operates in UK institutions.
More recently a call for consultants by @Technoserve saw them contact me for unpaid voluntary work but not for paid consultancy work, for which I am more than suited. While @Ecory's NS, the HR manager, advertised for private sector consultants, with business advice experience in UK. The advert was accompanied with a note a response could be expected within 30 days.  After calling / emailing several times (after 30 days) it became obvious she was not going to take my calls, despite promises of call backs & updates.  It's not limited to access to contracts & consulting Associates. LL-S of @CardnoUK sent an email claiming to have Lots, suiting my experience, which they wished me to be part of the delivery. Thereafter changing her mind, when I followed- up, after her silence. She told me she was mistaken & would contact me when the Lots, she had in mind, were available.  Several months later, I emailed thrice with no response.  It became obvious they just wanted to maintain, healthy looking minority equality token, for their 'equals opportunity' policy.  I have asked to be removed from their database, I do not wish to be the target of this nastiness, I have not. @Cardno your practices are shameful. I could mention another in this company but won't, since she has now left.
@BritishExpertise & a member of staff whom I called /emailed over a period of a year, only provided the information I needed, as she departed the organization. The CEO has tried to make amend but I fear paying to join now. The lady's behaviour indicates an ingrained culture, signalling they'll take my money but exclude me all the same. Finally @CrownAgents, I managed to contact a senior manager for international development, with learning focus. I am also a qualified tutor & been involved in a lot of organizational development work. Through persistence I got a meeting, then in the new financial year, an interviews for an Associate position. The man, a JB, now a freelance consultant, made it clear by his attitude, I would not be successful.  I can only hope he remembered me, when he was recently made redundant & was job seeking. Indeed, I got an email I was an exceptional candidate but did not have sufficient international development experience. They clearly forgot JB's previous role, was local government without international experience (as I note, I had international experience).
Yes, this is the state of the industry that wants to aid Africa, a bunch of shameless, greedy institutional racists (keeping it all to their race, with no recourse to their humanity). I have brought up the lack of ethnicity in conferences/ seminars & the obvious bias, which among other things, shows any agenda, so racist in approach, cannot be a help but a hindrance. The response is the cold look, nothing changes. 
Why? Well it's not about aid at all, it's about a corporate machinery, intent on the same vile attitudes, towards ethnic minorities in their midst, in Africa. Please, none of the companies I've mentioned, turnaround and state they employ Africans in Africa, because of course, it's cheaper to do so. I am talking paying the wages you pay toCaucasoid Brits, to qualifying Negroids, here, so they may deliver with passion & excellence, in their continent of origin.  They can do this by bridging the cultural divide & engaging as equals, not as all- knowing masters. I'll be contacting DFID with my concerns, will keep readers posted.
Part 3. International aid & development in the politically correct name for neo - colonialism.    In this part I will include some graphic photos from the colonial era, which readers may view, by clicking the link to my blog site.
Like

White Power: UK Racism in 'Aid' to Africa.

Share

Share White Power: UK Racism in 'Aid' to Africa.
"
You may be interested in these jobs
Found in: Jooble GB - 22 hours ago

---

Fantastic Services

Merton, Greater London

Full-time

If cleaning is your calling.. · Join forces with the best UK company in the property maintenance industry sector · Help customers get their properties clean and in a rentable condition We have unmissable job openings in Merton for specialist cleaners, including Airbnb and move-ou ...

Found in: Jooble GB - 5 days ago

---

Deloitte Central Europe

Hungary

Description & Requirements · Kit keresünk felsőfokú iskolai végzettség, · könyvvizsgálat területen, pénzintézeti, banki iparágban, VAGY autóipari, termelő-gyártó vállalati, gázipari, agrár iparági és KKV szektorbanszerzett legalább 1-2 éves tapasztalat · (Big 4 cégnél szerzet ...

Found in: Adzuna GB Premium - 3 days ago

---

Heat Recruitment Ltd

Altrincham

The opportunity for a Financial Planning Administrator to join a well-established Financial Services Practice which provides a highly personalised financial planning and investment management service. · The Opportunity · During a period of growth, our client is looking for someon ...