5 years ago · 3 min. reading time · ~10 ·
Communicating Across the Divide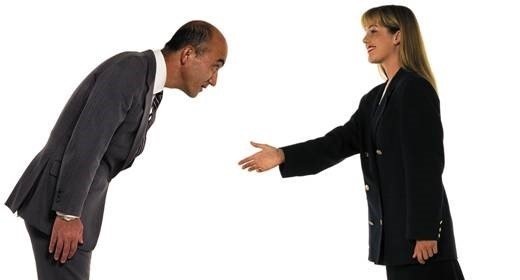 Introduction
This is an abbreviated version, of a case study, for a course I recently concluded. I believe it could help those engaging in international business particularly in the Middle East.   As a women engaging with the Middle East for the first time, I had many advisors, some knowledgeable others not but all well- meaning, about what I could expect, in what was described as a "moslem, misogynistic society", thereby stereotyping & generalising; threatening to give me negative preconceptions that could lay the foundations of misunderstanding & conflict.
 The Divide
1.   Appearance.
Dress code and initial restrictions on movement in Saudi Arabia. I felt uncomfortable and did not understand the need for this restriction and it made me irritable and insensitive to this cultural norm.
 2.   Business Hours.
I am an early sleeper, most times. Having meeting late evenings into the night disrupted my normal pattern of business.
  3.   Communication & Meeting Content.
The purpose for my trips and meetings and objectives were clearly stated. I found it a costly time & resource expenditure and waste to engage in meetings that never had a prospect of going anywhere. In addition, the pace of business and cycle of communication whether by email, telephone or official documents were slow compared to fast paced result focused UK.  I considered this rather incompetent and not good business practice. In one instance, I arranged a meeting in Saudi Arabia for a location in Bahrain, only to find I was misinformed by a senior company official and what was being sought was not business partner but investment opportunity.
 4.   Decision Making
This was another area as part of the wider business communication, related to doing business I found very slow. Decision were hardly taken at meetings but would be delayed and often things would change, on further discussion of the previously agreed agenda, or action.  Even when the right connection had been made and business was good, decision making could be slow and cumbersome and things can go silent for a while.
 The Solutions
Appearance
I invested in numerous long items of clothing and trousers. I bought several Abayas, which I later took a liking to and bought as souvenirs to wear in UK. Here, I adapted to local customs, at a surface level of culture.
 Business Hours
There was little I could do to change the business hours of meetings which sometimes left me rather tired and out of sync with my biological clock (in addition to the few geographic hours either side of the clock). 
 I could have taken a Mindfulness approach and reflected on the benefits of the working hours, which made sense, since it is so hot in the afternoons, its energy sapping.  In any case, I had to quickly adapt to this different way of doing business. Understanding the concepts of culture at an intermediate level would also have eased this area of conflict more quickly, as I would have understood and adapted more readily.
Communication & Meeting Content.
As much a possible I tried to ensure that agenda and objectives were communicated clearly and agreed before -hand. I followed up by asking if anything needed to change and if all was understood. I raised questions about progress and the viability of the proposed line of action. In a way, it was micro managing at a senior level, which would have been considered offensive in UK. I could not feel I had delegated and be confident issues were being addressed; in my absence. 
 Understanding Low and High context business culture would have helped. I am from an individualistic, low avoidance culture while Arabs seemed to be of a high context, collectivism, high avoidance culture. Mindfulness would have helped me realise, at times I was being inflexible. I could also have designed a communications strategy which took into account the other parties, rather than just my perspective and requested their input so we are working towards a joint goals.
 Decision Making.
The timeframe for large corporations, was not much different to UK, given the processes that have to be taken to initiate & begin a contract. The problem was largely with medium and small companies. In these instances, I had to make a decision about pursuing negotiations with these companies or bringing matters to a close, because I could foresee the chances of severe problems and failure, due to a gap that could not be bridged, in terms of working practice. This meant resource time and monetary could be saved and outputs concentrated more effectively & efficiently.
 On reflection, I could have understood the decision- making process within the individualism & collectivism paradigm. Another key concept that could have enhanced my engagement is understanding high versus low power contexts. While in UK decision making tends to the high, that is hierarchical; it appears more distributed, or low in medium/ small Arab businesses. This understanding would certainly have enhanced business results, as I would have had the benefit of a wider range of businesses with whom to engage and therefore enhanced my prospects.
  Conclusion
Given some of the apprehension and misconceptions I had come across before my trip to the Middle East; I discovered that the courses and briefings helped prepare a foundational support, for my engagements, communication & inter- cultural relationships. Unlike the rumours of a misogynistic society I found men and women overwhelmingly welcoming and pleasant even, if business culture was a little out of sync.  Investing in understanding, appreciating and accepting different cultures brings benefits to the individual mind, by opening it up to new stimulus and possibilities.  While I was in the Middle East, I did still come across negative stereotypes and generalizations, from 'Westerners' but was able to make a robust defence of the culture and people and hope that it initiated a new way of thinking for such individuals. It helped to start off a clean slate and not descend into stereotyping. 
"
You may be interested in these jobs
Found in: beBee S2 UK - 4 days ago

---

Randstad

London

Full time

My client, not a traditional bank, is currently in the market for a Solution Architect to come on board to join on a permanent basis · They are looking for someone to join as a Solution Architect and work on a brand new transformation of their core banking platform. · They are l ...

Found in: Jooble GB - 6 days ago

---

Belhaven Hill School

East Lothian, Scotland

Full-time

Belhaven Hill School is Scotland's leading co-educational full boarding and day preparatory school, set in a beautiful coastal location in Dunbar, 30 miles east of Edinburgh. There are currently 124 pupils aged between 5 and 13 years old, with about 60% of those full boarding. · ...

Found in: Talent UK - 1 day ago

---

Thames Valley Police

London

Full Time

) in the 'Line Managers Approval Form'. At CTPSE we are committed to reflecting the communities we serve, and welcome applications from people from all backgrounds. · We welcome applications from those interested in part time and flexible working, and encourage applications from ...