5 years ago · 4 min. reading time · 0 ·
Ode to January renewed in July, dammit!
It's one I wrote in January, so hell with it...we know the news:
------------------------------------------------------------
It is January. This is the time when there is no yesterday, there is no tomorrow, there's only the now. It carries the awful threat of staying that way; I empathise with our ancestors who waited in the dark with fearful longing to see if the sun would come up. The earth I know withdraws into itself, sullen silence ensues, muting even the fierce-some waves that break like cracking whips then, catching nothing, scrape away with icy fingers of foam to amass their force anew.

An iceberg larger than Trinidad and Tobago is being 'calved' in Antarctica. Breaking off Larsen C ice shelf means exposing some of the 195 mapped glaciers of the Antarctic Peninsula tip alone, as identified by Dr Bethan Davies, Glaciologist for the RHUL Department of Geography, UK. Between the three ice sheets of Antarctica, 27 million km3 of ice are kept in check, and that doesn't account for glaciers coming from 1133 ice caps  or the 1619 peripheral mountain glaciers.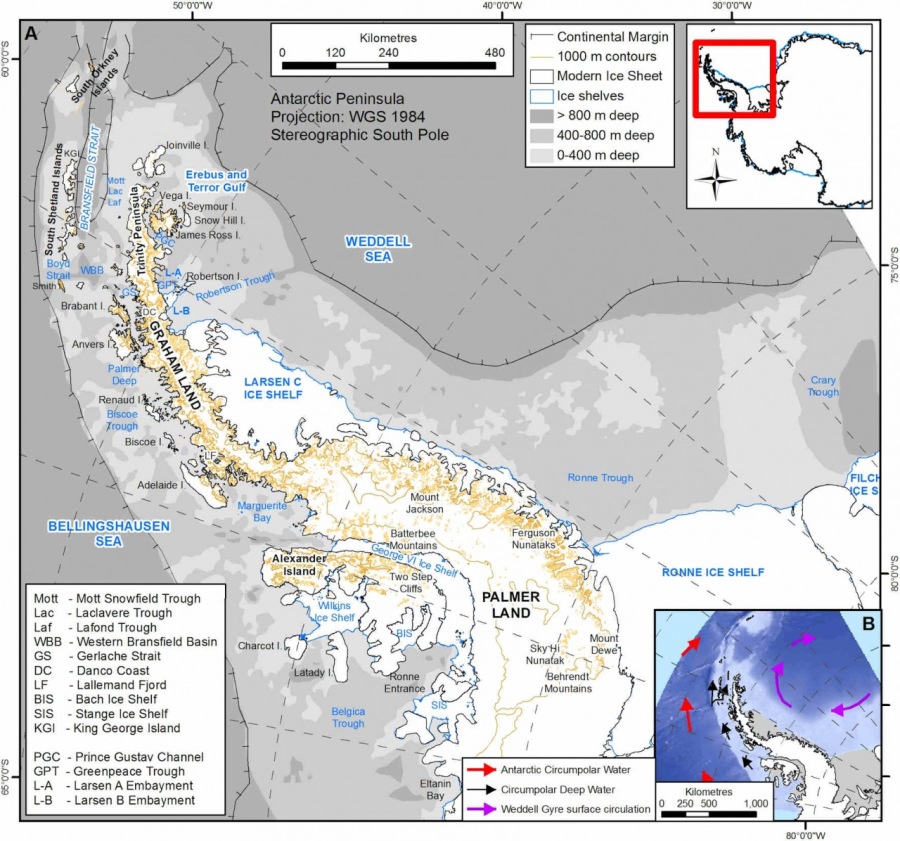 Pic courtesy of Map of the Antarctic Peninsula, after Davies et al., 2012 (Quaternary Science Reviews)
This wee spit of a tip is 70 km wide and (average) 1500 meters high; a 'runner's mile'. I must admit it's hard to stay miserable when one grasps the scale of things. If you look at the very tip of the peninsula you'll see the Erebus and Terror Gulf, named after the 1845 Franklin Expedition of the North-West passage. Of course, one must overlook the fact that the naming of this area is on its polar opposite.  Dan Simmons wrote one of my all-time favourite books, The Terror, about this epic but monumentally doomed exercise that some folk just gotta do. But Simmons' descriptive narrative makes one feel right there; blood freeze in a billion needles and breath sucked in and out like liquid concrete. Admitted the ending…meh, but the sheer brutality these poor (the hubris of the Brass then!) yet heroic men faced without clothing or edible food is mammoth. Well worth the read….there's so much fascinating stuff about!
Ah-hem, back into the gloom.
Rotting leaves once vibrant lie discarded like so many bitter miscarriages while a million sad and bitter feet traipse through them, crushing out their last resemblance. Behemoth trees, as if enraged at their cast-off glory, flail excruciatingly, dystonically in the shearing winds that scream 'your fault! your fault!,' to every living thing. Their boughs contort as if to free themselves from this very earth. The mighty Horse Chestnut – the last suspected abode of the English Fairy - must ask herself, 'why bother?' She knows her fate; her kind is in their death throes from suppurating bleeding canker; they are the last. Her cousin, the American chestnut, have succumbed to blight, the last pocket are dying out.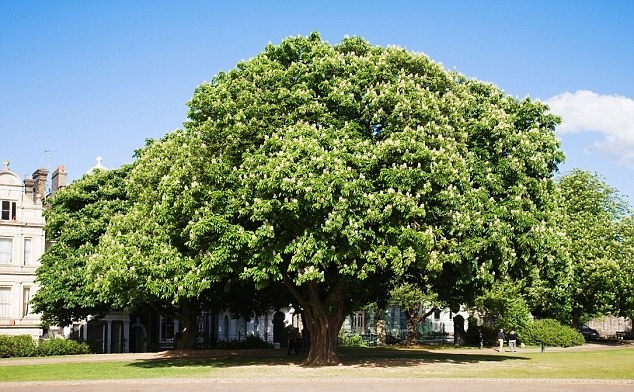 Mankind seems mean and smouldering like grudges never dropped, or pitiful or hopeless against an endless cry of angst. As charity numbers are published and donkeys win over human children once again, we are reminded of what we have become. The crushing need, the ever-desperate want of humankind is so overwhelming, wading in the torrent tide of disease, pestilence and ever-increasing genetic mutation that will promise our own demise we have once again looked away. 'You can't help them,' the raven caws, '…you know you never could.' A stupid pigeon coos agreement. 'Stupid humans' it warbles, as it rubber-necks between vomit and trash.
They have a point.
For all our first-world education, intellect, compassion, entrepreneurial humanitarianism, are we as altruistic as we were, say, when there was a mere 4 billion of us?
For one of my articles, The State of Parkinson's 2016, I had referred to a fabulous site (below) that you can find all sorts of useful information, like where in the world you're most likely to die from specific disease. Their sourcing is compiled from WHO, World Bank, UNESCO, CIA and individual country databases for global health and causes of death.
Going back to our heaving, groaning planet that suffocates under the weight of our kind the World Life Expectancy map, if you look under the top banner to the green line, you'll see the world's population count, births and deaths. It takes about 33 seconds to increase the global number by 100. Yet the same number of deaths takes nearly a minute. That's sobering, no? Each individual will rightly have wants, needs, aspiration, hopes and God willing, loves. So many will be born to a world on limited expectation – doomed before they start. Others will be born with an unreasonable sense of entitlement. Either way, the sanctity and dignity of life is something we may strive to keep as values, but more often they are corrupted by all manner of factors. I read somewhere that, so far as charitable donations by individuals, way more money goes to animals than humans. Why is that? Is it as simple as burn-out? The need is immense, some charities are not so noble as they seem, monies don't arrive where they're needed. Are we ignorant of how to give to humans? It's like giving a couple of bucks to a street person…will they spend it on dope or alcohol; is that the fear? A few can be arsed enough to go and get them a meal and drink instead, but it's…few. Have we become too lazy to actually look at innovative ways to help? Between wars, starvation, over-breeding, disease, is a world of pain, so maybe we just look away.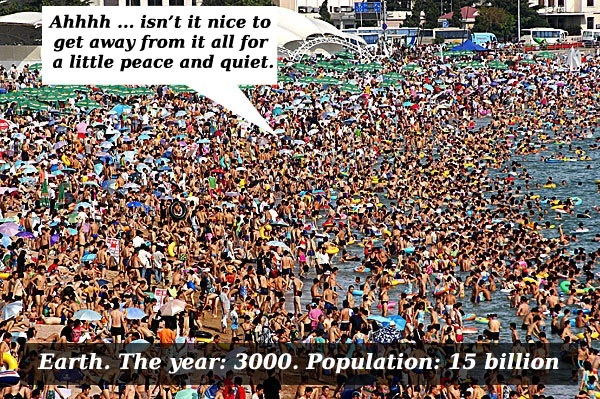 courtesy of http://www.fengtastic.com/?m=200910


Or have we reached the conclusion that the wave of need is hopeless. For the poorer countries, war-torn and bleak, what's the point of a water-filtration system if it's going to hydrate a Militia? Even darker, is this the portrayal of survival-of-the-fittest? There will be a percentage of that, but I suspect it's a bigger player than we care to admit.
In the main, I write about medical – especially Parkinson's disease, as my hubby is now into his 18th year with it (happy freakin' birthday, you bastard. This evil completes our ménage à trois). I know most of the big-boys which amounts to a hill of beans. But, it's all too easy to burn out.
To end this suitably bleak monologue, then there's Trump! Roll on the 20th when we inaugurate our first haughty Neanderthal. …I would have possibly wanted his opponent less. Talk about rubber-necking! Can't wait to see how this plays out.
Happy things, anyone who reads this....may life be at least gentle towards you. I sincerely wish you well – not that I can do anything about it!
"""
You may be interested in these jobs
Found in: Jooble GB - 6 days ago

---

TechNET Digital Recruitment

Milton Keynes, Buckinghamshire

2nd Line Service Desk Engineer (Contract) United Kingdom - Milton Keynes · Posted: 04/10/2021 · Salary: £0.00 · to £150.00 per Day · ID: 23360_BH · Apply 2nd Line Service Desk Engineer · Milton Keynes · Contract: 3 Months (Initially) Inside IR35 · Day Rate £150 Per day · 2nd Li ...

Found in: Recruit.net GB - 4 days ago

---

About Dexcom · Founded in 1999, Dexcom, Inc. provides continuous glucose monitoring technology to help patients and their clinicians better manage diabetes. Since our inception, we have focused on better outcomes for patients, caregivers, and clinicians by delivering solutions fo ...

Found in: Jooble GB Premium - 3 days ago

---

Creative Support Ltd

Sheffield

Full-time

Creative Support is a national, fast growing not-for-profit organisation providing support to individuals with a wide range of care needs. We are currently seeking highly motivated Support Workers to join our friendly team in Gateshead, Tyne and Wear. We are looking for calm, re ...