3 years ago · 5 min. reading time · 0 ·
The complete guide to blogging for small businesses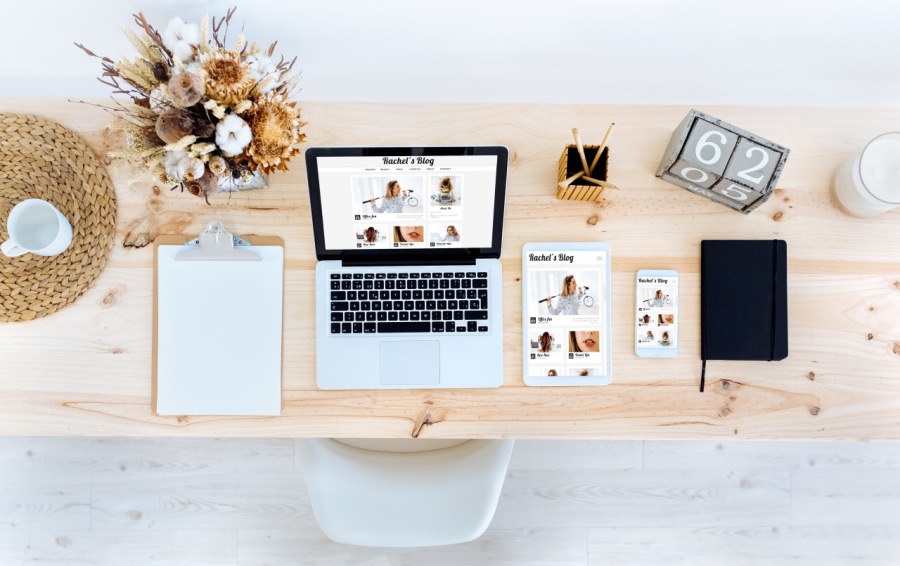 For small businesses, blogging can be the perfect way to get exposure. The cost is low, minus your time of course, and it actually doesn't require advanced writing skills. What's essential is that you are offering valuable and clear advice, that your readers will benefit from. Sharing your personal experiences or tips is likely to attract and keep your readers' interest and help you build readership over time.
Blogs have come a long way since they were just a way of expressing personal views and interests to a niche audience. Over the last few years, they have become an essential part of a marketing strategy for businesses of all sizes across all industries. And businesses and individuals are not spending money, time and energy on blogging just because everyone else is doing it – they are doing so because they bring significant benefits on both personal and business levels.
BENEFITS OF BLOGGING
Establishing your personal brand
When you are running your own business, your personal brand represents your business. So the more recognised your personal brand is, the higher visibility for your business. People will trust you more if they see your knowledge and expertise demonstrated via your blog posts.
Increased visibility online
The more you blog, the more you are being seen online and people will easily find you if they are looking for someone with your skills or products. Your online presence is here to stay and having your high quality blog posts being seen by the right people is a very effective way to promote yourself and your business.
Building your personal network of contacts
It's not just about who you know, but about who knows you! Blogs give you extra exposure and help to build your personal networks over time. Your readers are likely to get involved in the conversation if they like what they are reading, creating engagement which you can then convert into business or personal relationships.
Learning something new
When you blog, you are likely to do some research on latest news and trends, or just to double check some of your own insights. But through interactions with your readers you are also able to learn something new from each of them. And knowing your audience is one of the most important success factors for your business.
Social selling
Social selling is exactly what the name indicates – selling your products and services with the help of social networks. And blogs are very effective to help when it comes to social selling as the provide insights that can help you establish yourself as an influencer.
Helps drive traffic to our website
Blogs are one of the most effective SEO tools which will drive traffic to your website and help your website to show up in relevant searches. By posting a regular blog on your website, you are sending a signal to the search engine that your site is active and up to date and it will therefore be considered relevant and will appear higher in search results.
Gives your brand a human face
No matter how big businesses get, at the end of the day people still buy from and work with people. Having a blog helps to show your's and your team's personality and talent and will help your potential clients to understand what your business stands for and what's it like to work with you.
Provides content for your social media and email campaigns
Blogs are great for sharing on social media and used in your e-newsletters or other email campaigns. They provide valuable content on topics relevant to your clients and they show your knowledge and experience, as well as drive website traffic.
Helps to grow your social media networks
By posting relevant blogs on your social media networks, your profiles will get extra exposure and are likely to expand quicker, with more people liking and sharing your content.
Lead generation
Promoting your skills, experience and knowledge via your blogs and then sharing them in relevant places mean that you will reach potential new leads that could be converted into customers.
GETTING STARTED
Learn about your target audience
Before you get started, define who do you want your blog to read and what it is that will make them want to return to your site. Keep your topics and writing style aligned with your audience's style and interestS and the chances are you will get some regular readers before you know it.
Focus on evergreen topics
Ideally, you'd want your posts to remain relevant for as long as possible. If you are writing about topics that are linked to the present time, the likelihood is that they wont't be interesting to anyone in a few weeks' time. Try to think about topics that are timeless, such as tips, guidelines, how to articles; and you will never be short of relevant content.
Recycle your existing content
It is a common misconception that content should only be used whilst it's new and fresh, and very often a few weeks later it's completely forgotten. Re-use what you have even if it's not new. You will always be reaching different people and even if you share it with the person who already seen it before, the likelihood is that they have either forgotten or if it's interesting enough they won't mind to be reminded.
Write engaging titles
Titles determine whether you get your readers' interest or not. No matter how good your content is – if you can't catch their interest early on, chances are limited that readers will read on. Think about how people look for relevant content – use creative titles and keep them clear. Focus on SEO and always consider how likely is anyone to find the article based on its title.
Answer your readers' questions
You obviously want to write about what interests your audience and the best way to do so is to provide answers to their questions. If you are struggling with finding the right topics, do a bit of research. A great tool to find out what the internet is talking about and what users are searching for is answerthepublic.com 
Give it a clear structure
Break your postS down into paragraphs and use visuals where you can. Readers much prefer this to one long, text heavy paragraph. Use headings or subheadings and if you are providing tips, consider using bullet points and numbers – they are much easier on the eye and your readers will be able to quickly digest the key elements of your article.
Encourage social sharing
Use social media sharing buttons so your readers can easily share what they are reading. Always use visuals as this will make social sharing even more effective. But don't just rely on your readers to share your content – use it to promote yourself regularly via social media.
Don't forget to proofread any content before you publish it. It's obvious, but so often completely ignored. Don't just rely on spell check, have a good read to make sure all you wrote makes sense and reads well. And then go ahead and publish.
GETTING MORE READERS
High quality content is essential, but writing is only one part of your success. You can have the best blog on the internet, but no one will read it if they can't find it. So in addition to creating a great looking blog with interesting content you need to be promoting it with the right readers, so they can find your site and keep coming back.
A niche topic
Don't be afraid to focus on a niche topic – just because it hasn't been covered before doesn't mean there is no audience for it. Quite the opposite. Being an expert in one specific area will give your more credibility than knowing everything. Your target audience might be smaller, but it will certainly be more relevant. Make your copy SEO friendly by using keywords relevant to your niche and use language that will resonate with your target readers.
Practical tips
The internet is built to provide answers to questions. People constantly search for answers and tips on topics they don't know enough about. Relate to your potential readers and the way they do their online research and give them useful, practical tips they can learn from and enjoy reading. Position yourself as an expert by using blog titles that make your audience quickly understand that they have found their answer.
Visuals
Visuals are an effective SEO tool that will make your blogs look better. Provide descriptions using relevant keywords and avoid using pictures that are too large as they will negatively impact you site's loading time. With free stock photos available to use, it costs nothing to add a few visuals as a featured image as well as pictures included in your posts.
Social media
Anyone sharing your post on social media helps you reach new people. Even better, as the share comes from someone they know and trust, it's more likely to trigger their interest. Allow your followers to easily share your post by adding social media icons to your blog and monitor the mentions. Also allow visitors to easily find your social media accounts by having the icons visible on your homepage so they can follow your company for regular updates.
Blog alerts & e-newsletters
Allowing your visitors to subscribe to an e-newsletter or alerts when a new blog goes live gives you extra exposure. Not only are you building a list of loyal readers, but emails can also be easily forwarded. An email also provides a quick reference point and makes it easy for the recipient to revisit your blog.
You may be interested in these jobs
Found in: beBee S2 UK - 4 days ago

---

TimePlan Education

Islington

Part time

Are you looking for a flexible work life? Due to an increase in demand TimePlan Education are seeking flexible, and enthusiastic qualified Early Years support staff to work on a daily supply basis to cover permanent staff members be it planned shifts or on the day. We work with a ...

Found in: Jooble GB - 6 days ago

---

Fantastic Services

Mortlake, Greater London

Full-time

If cleaning is your calling.. · Join forces with the best UK company in the property maintenance industry sector · Help customers get their properties clean and in a rentable condition We have unmissable job openings in Mortlake for specialist cleaners, including Airbnb and move- ...

Found in: Talent UK - 3 days ago

---

Conneely Group

Stansted Mountfitchet

We are currently seeking Quantity Surveyors to join our teams based in London Surrounding Areas. · The responsibilities of the successful candidate will include (but not be limited to): · To effectively communicate and build relationships with site supervisors, project/contract m ...