2 years ago · 2 min. reading time · visibility 0 ·
The Fun of Learning 2: Fun Earning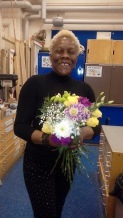 An update on my fun learning experiences.  You'll remember my first blog where I talked about floristry, Indian head message and art and how relaxing, I find learning for fun rather than achievement.  Today a focus on fun learning and the potential for earning.  I recently concluded another floristry course 2.5 hours for 5 weeks this time concentrating on bouquets.  I share some photos below.  I enjoyed the same relaxing, therapeutic benefits but as I worked, realised just how a hobby could turn into a money earning venture.  I actually know someone who started a business from a self taught hobby, after being made redundant, as a manager in local government.  With YouTube videos to help, she grew her talent to a point she now makes uniquely decorated cakes, for a living.
As I worked on my floral displays, I thought this could easily be money earning, away from the high octane world of work, for me or anyone else, looking to down size.  Realistically, it would start with just family and friends, or doing displays for free to introduce and promote the service.  Another idea could be to sell displays, to raise money for women entrepreneurs. as I do through my not for profit, Enterprising Female.
I also enjoyed a day long Thai cooking class.  Like the floristry, I was stimulated by new aromas and the easy feel of unwinding, as I prepared  the food.  I learnt that it is lime leaves that give the distinctive aroma to Thai green curry, came across Ganglanga, a root vegetable, in the ginger family and using the skin of prawns as stock, for soup.  Got introduced to palm sugar more healthy (!!) than Demerara sugar, after I did a search. I never use refined sugar,  for the rare occasions sugar is needed for taste, its a tiny bit of molasses  or muscavodo. I try to avoid sugar like the plague.  I generally stopped cooking with salt or sugar long time ago.  So  just to reiterate no sugar is good but Stevia as a sweetener, is at the top of the list, of least unhealthy.
Later, I experimented using rice vermicelli and prawn curry, instead of jasmine rice and chicken.  Having used authentic Thai lime leaves in class, I was disappointed the lime leaves from a supermarket, did not produce the flavour or fragrance.
Next is bread baking.  As those with gluten allergies will tell you, gluten free bread costs the earth.  I don't eat bread as a staple......the carbs but £3.50 for a standard loaf, when I do?!!! Bread making will definitely earn me a few pennies, in savings.
I'd encourage anyone to do a fun class, as a way to relax and learn new things and even as a way to earn non - pressured money.  Good to have your thoughts on this.
You have no groups that fit your search