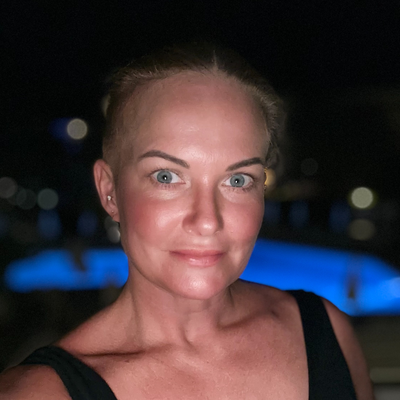 Debra Kelly
Entrepreneurial Barber | Digital Marketer
Fife, Fife
About Debra Kelly:
About Me: Greetings! I'm Debra, an enthusiastic person who has worn many caps in the expert domain. Throughout recent years, I've flourished in different jobs, from chiseling bodies as a self employed Fitness Instructor, crafting haircuts and dealing with a bustling Barbershop. Presently, at the ready age of 40, I've set out on another excursion in the advanced promoting field with my own personal endeavour - Vitality Fitness 40.
Independently employed Health specialist (7 Years): Driven by an adoration for fitness and well-being,  I devoted seven years to enabling people on their fitness journey. Through customised exercise plans and group training, I cultivated a local area in Edinburgh, focused on health and fitness.
Innovative Hair stylist and Barbershop Proprietor (8.5 Years) (Present): Dealing with the heartbeat of style for more than eight years, I laid out and run a flourishing Barbershop. From producing sharp haircuts, overseeing operations, client relationships, and creating an inviting space. This multifaceted experience enhanced my marketing, leadership, customer service, and business management skills. 
Advanced Promoting Business person (Present): As of late, I left on another experience in the advanced domain. As the founder of Vitality Fitness 40, I've ventured into the dynamic world of digital marketing. From conceiving the brand to developing a website, I've embraced the challenge of creating a digital footprint for my health and fitness-focused brand.
What's Next: At 40, I'm excited about expanding my horizons, acquiring new skills, and exploring fresh avenues. I am open to exciting opportunities that align with my diverse background and passion for excellence. As I chart this new chapter, I'm eager to bring my blend of fitness expertise, entrepreneurial spirit, and digital marketing skills to new challenges. 
Lets connect! I'm effectively looking for networking opportunities, collaborations, and new ventures! If you're as excited about growth and exploration as I am, let's connect! Reach out to me on beBee.
Here's to embracing change, encouraging development, and vanquishing new skylines at 40!
Experience
Versatile and accomplished professional with 20 years of diverse experience across multiple industries.
Customer Service Roll, Mortgage Department at Standard Life Bank (5 years):
Specialised in post-completion mortgage inquiries, assisting clients with borrowing additional funds, providing forecasts for overpayments, and addressing redemption inquiries.
Regularly liaised with solicitors and financial advisors, demonstrating excellent communication and problem-solving skills.
Delivered exceptional customer service, ensuring clients' needs were met with efficiency and professionalism.
Fitness Instructor (7 years):
Entrepreneurial fitness enthusiast dedicated to transforming lives through personalized workout plans and motivational coaching.
Barber & Barbershop Owner (8.5 years):
Established and managed a thriving Barbershop, showcasing leadership, customer service, and business management skills.
Digital Marketing Entrepreneur (Present):
Founded and launched Vitality Fitness 40, a digital marketing venture focused on fitness and well-being.
Developed the brand, created a website, and entered the dynamic world of digital marketing.
What's Next: Eager to leverage two decades of diverse experience, including a specialised focus on post-completion mortgage inquiries, customer service excellence, and a passion for fitness, entrepreneurship, and digital innovation. Seeking new opportunities that align with this unique blend of skills and experience.
Education
High School:
Achieved 8 Highers with grades B's and C's, showcasing a strong academic foundation and a well-rounded skill set.
Heriot-Watt University:
Enrolled in the Construction Project Management program, demonstrating a commitment to learning and project-focused skills.
College:
Pursued an Exercise to Music qualification, blending a passion for fitness with formal training.
Online Digital Marketing Course:
Completed an Online Digital Marketing course, highlighting a proactive approach to staying current in the evolving digital landscape.
Professionals in the same Marketing / Advertising / Public Relations sector as Debra Kelly
Professionals from different sectors near Fife, Fife
Other users who are called Debra
Jobs near Fife, Fife
---

Arnold Clark

Stirling, United Kingdom

Full time

We are looking for motivated Graduate Accountants to work in various Arnold Clark branches across the UK. · Gain full ACCA study support, including tuition and revision courses on an award-winning onl ...

---

NHS Fife

Cowdenbeath, United Kingdom

Permanent

Cowdenbeath Medical Practice is pleased to offer the rare opportunity to join our Practice Team as a Salaried GP. We are a well established 9 Partner training practice serving a population of 11,600. ...

---

Sales Recruit Scotland

Edinburgh, United Kingdom

Sales Account Manager Public Sector · The Client: · A Scottish business that has gained much of its traction in the Public sector that is now looking to strengthen their position in the market. · Th ...