4 years ago · 2 min. reading time · visibility ~10 ·
For my baby grand-daughter
With Irma bearing down on them; my son, his wife and their first child, I have decided to buzz this. I'm a Christian (albeit a really crappy one) and me and my husband have yet to visit this little cupcake! I like to make different stuff, so our grandson has a painted shell with a poem written on an aged, scraped canvas piece to make it look like it was buried inside. Inside, the shell is coated with luminous paint so he will see it glow as well as hear the sea. He was conceived in Florida - a Cracker kid :)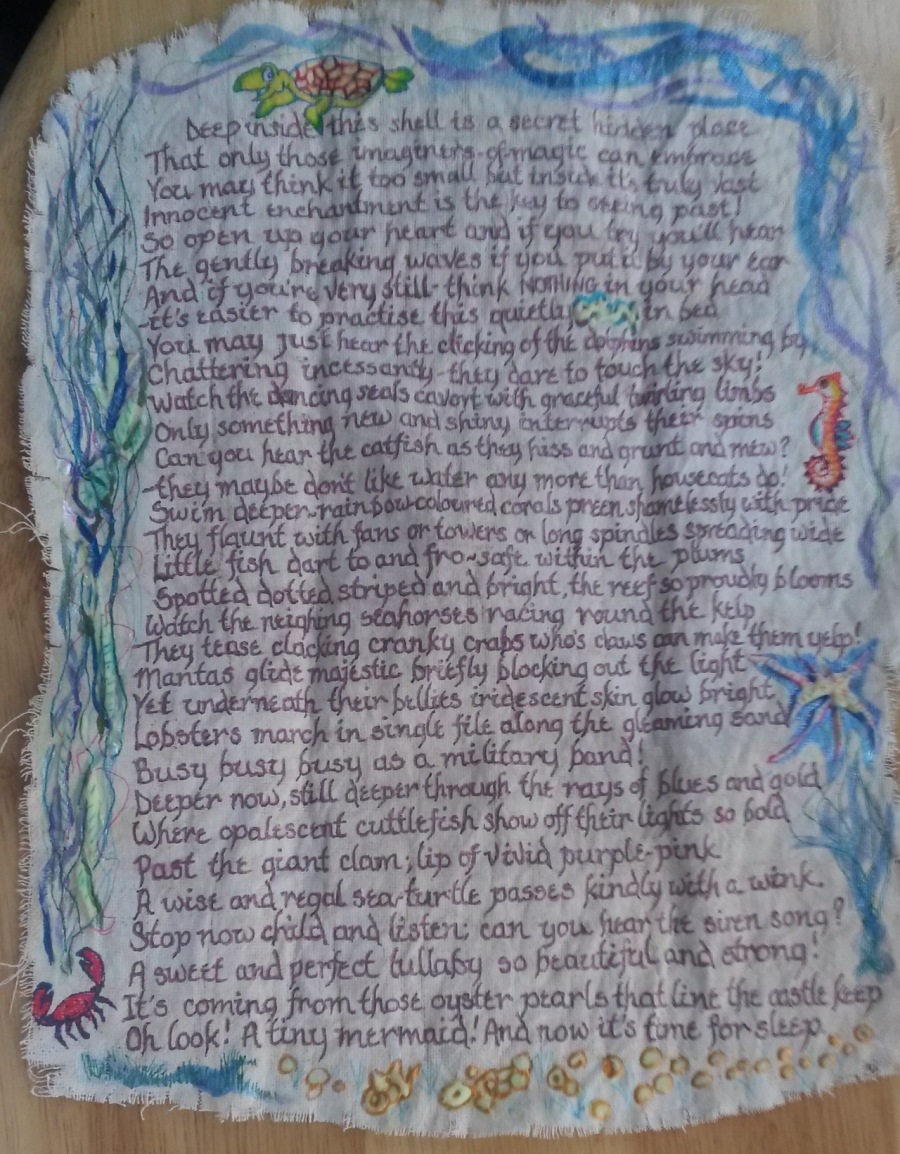 The poem below is for the long-awaited baby girl that is in God's hands....like a billion others.
So quiet is the Holy voice that comes from Heaven's Keep,
Murmurings revered by all; familiar, yet unique.
Attending in the Making, the Son and Spirit still
As God the Father whispers your creation, by His will.
For every human child is His; cloaked in sanctity.
Exquisitely, exclusively, and loved eternally!
Immortal angels gather to adorn His unique art,
Breath withheld until his kiss awakes your sleeping heart
His thumbprint marking you as His is hidden deep inside
To be your moral compass, where your consciousness abide
No child can wake from mortal birth with memories before
Of being held in Yahweh's arms; deeply they're adored!
Alpha and Omega, Elohim, the Great I AM
Must remain a mystery; the pure and perfect Lamb.
Your parents saw you long ago, deep within their sleep
They prayed for you, longed for you, their hope in Him is deep.
Now born, your parents gather you within their love's embrace
His gift to them is mirrored as they gaze upon your face
Only wisps of heaven's scent remain upon your skin
Aroma that unique to you to bind you to your kin.
You cannot talk of what you know; God's babbled up your tongue
The sacred creed of free will must remain as it begun.
Your eyes see only parents, their love and yours entwine
A three-strand cord He's woven to attach you to their vine
Growing in your babyhood, as is our Father's choice
angels twirl and play around to bring about your voice
only you can see them, you giggle, squeak and sing
Wonderful delightful sounds, from your mouth they spring!
In those years of childhood God allows for one more gift;
Enchantment and imagining take practise, so be swift!
No time to waste! Dimensions wait that only children see
Within your parents boundaries you must promise to agree!
Exploring curiosities just takes a willing mind
And everything has magic if you're suitably inclined!
One day a child – your very own will want to know your heart


So gather up your memories, you've magic to impart!

Me. They won't see it until my gift is done.
"
You have no groups that fit your search