The Cycle of Life

You may remember my blog The Fun of Learning and Zero Cost series: De-stressing Your Workplace, I shared my experiences of a short floristry course and extolled the virtues of plants and their effects on the psyche.  Today it's  quick rundown on what's happened to a single plant that has had me thinking about life and birth.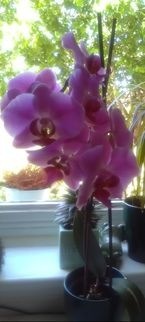 Over the summer 0f 2017 I decorated the window ceil with several plants some lasting longer than others, which meant over the course of the season I replaced the plants several times.  Among the plants I regularly purchased were orchids, which as I have learnt, is taken from the Greek word for testicle, due to its bulbous root. I must admit I am a late comer to the beauty of this flower, which is not fragranced like the hyacinth or rose and has a long stalk, needing ties to a bamboo or other support, to stay upright.  Each lasts about 5 – 8 weeks and though the instructions for care, state they may bloom more than once, found myself throwing all but one of the about  12 I bought. 
It was one of two, (I always buy them in pairs, since they're testicles!) I was about to throw away when I noticed little bump on one, like it was sprouting again.  I wasn't sure but decided to hold on, just in case.  True enough a new stem started to grow through autumn and winter then come Spring I noticed two flowers springing out.  First, the familiar 'pod' like petals which grew larger then boom, a fully-  fledged flower.  Sadly one perished before it bloomed but what a surprise.  It didn't make the normal 5 – 8 weeks  but what a joy when I noticed two new stem sprouting from the main stalk, with numerous tiny 'pods'.   I held my breath will they make it to maturity!!  Well this blog is inspired by the fact they did.  I have 10 full glorious orchid flowers (see picture)  and can see a couple more new ones, yet again.  It was really a good feeling.  Life and newness that comes from dying and rebirth. 
For the first time I appreciated death, which more a curiosity rather than dread to me. The mystics, the religious say, it's the beginning of something new elsewhere.   Is this orchid an insight of life to come, will I be reborn, what do I have to do to nurture and prepare for a pleasant rebirth elsewhere?   The orchid woke me up.  As I look outside the window, I notice the perennial tree, the leaves fluttered away, it became bare and then the leaves slowly returning much like my orchid.  Summer, with the sun and merriment has taught me a life lesson. 
"
You may be interested in these jobs
Found in: Talent UK - 3 days ago

---

Fuller, Smith & Turner

New Milton

Medio tiempo, Estacional, Casual

What we can offer you? · 25% staff discount off food and drink, across all our pubs and hotels for you and your friends and family. This increases the longer you work for us, up to 40% · A fair share of tips, paid on top of your hourly pay · Discounted hotel stays · Access to ...

Found in: Jooble GB - 3 days ago

---

About The Company:FTI Consulting is a global business advisory firm, dedicated to helping organisations navigate and manage a diverse range of complex issues and business challenges. Our expertise covers the spectrum of Corporate Finance & Restructuring, Economic Consulting, Fore ...

Found in: Talent UK - 3 days ago

---

Barchester Healthcare

Croydon

fulltime

Chestnut Gardens is Barchester's newest care home due to open in 2023.Fantastic chance for a Head Chef to join the Barchester family and work in a brand new kitchen, working days only, 40 hours a week, work alternate weekends, whilst deliver restaurant standards without the resta ...